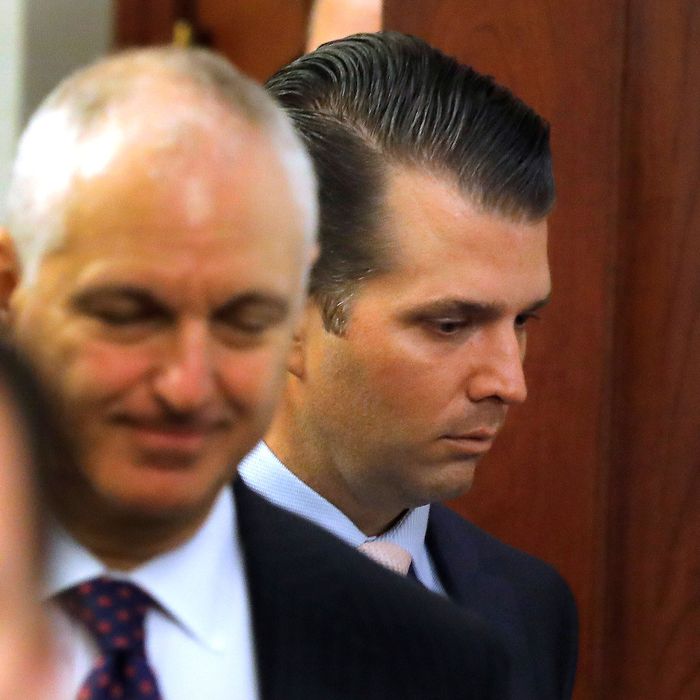 Donald Trump Jr. during a break in Thursday's interview.
Photo: Carlos Barria/Reuters
Donald Trump Jr. sat down for more than five hours Thursday to answer the Senate Judiciary Committee's questions about a meeting he had with a Kremlin-connected lawyer last year.
In the closed-door meeting, Trump Jr. offered a new line of reasoning to explain his eagerness to accept the meeting, which was pitched to him as an opportunity to obtain dirt on Hillary Clinton. He wasn't looking for politically damaging information, he told investigators, but learning everything he could in order to assess Clinton's "fitness" for office. In his prepared statement, obtained by the Times, Trump Jr. also said he intended to consult with a lawyer before using any information provided by Natalia Veselnitskaya, the Kremlin-connected lawyer he met at Trump Tower.
"To the extent they had information concerning the fitness, character or qualifications of a presidential candidate, I believed that I should at least hear them out," Trump Jr. said in the statement.
He also revisited a now-familiar excuse from members of the Trump campaign, telling investigators that he was so overwhelmed with the experience of working on a presidential campaign that any mistakes, such as accepting damning information on Clinton from a foreign government, were due more to ignorance than malfeasance.
"I had never worked on a campaign before and it was an exhausting, all-encompassing, life-changing experience," he said. "Every single day I fielded dozens, if not hundreds, of emails and phone calls."
While Trump Jr. was questioned by Senate staff Thursday, some Democratic senators reportedly popped in and out of the session to listen to the president's eldest son. One of them, Connecticut Senator Richard Blumenthal, later said that Trump Jr.'s answers were lacking.
"There are a lot of gaps that will need to be filled," Blumenthal told reporters. "My being there gives me a sense of his demeanor, his willingness to answer questions, his pauses and reluctance on some questions and eagerness on others." He went on to say that Trump Jr. will likely testify in an open Senate hearing, where, unlike Thursday, he would be under oath.
As Trump Jr. was wrapping up his testimony, CNN broke the news that special counsel Robert Mueller is also taking a keen interest in the Trump Tower meeting last year. Specifically, Mueller is looking to interview staffers present during the drafting of the first statement explaining the meeting. That statement, written aboard Air Force One with the help of President Trump, said Trump Jr. and Veselnitskaya "primarily discussed a program about the adoption of Russian children." That was later proven to be misleading, at best, and was once again contradicted by Trump Jr.'s own testimony at the Capitol Thursday.
CNN says that Mueller has not asked to interview the president, who, the White House claims "weighed in as any father would" on the drafting of the statement.
Across town, FBI director Christopher Wray also spoke Thursday about the White House and the Russia investigation. While on a panel at Washington's Intelligence and National Security Summit, Wray was asked if the Trump administration has tried to influence the investigation into the campaign's ties to Russia. "I can say very confidently that I have not detected any whiff of interference with that investigation," he said, perhaps forgetting that the reason he has a job is because Trump fired Wray's predecessor for investigating him.