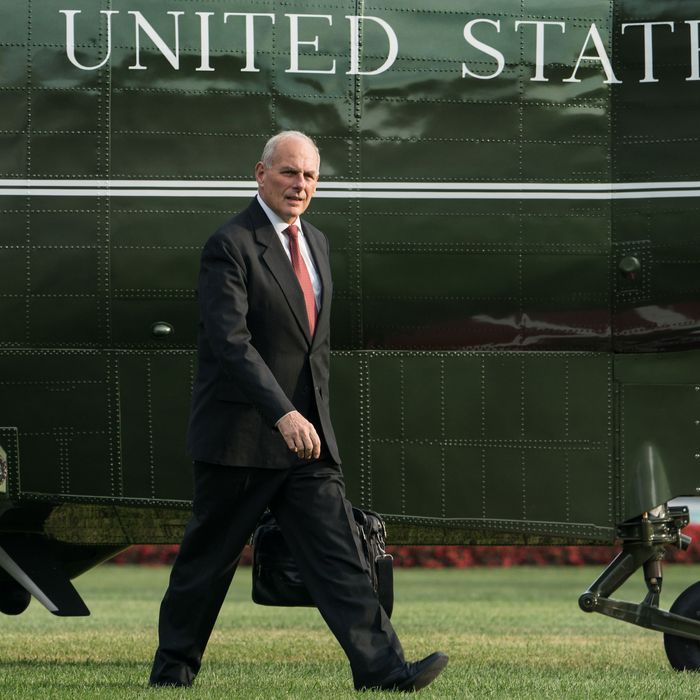 You're not the boss of Trump now.
Photo: Nicholas Kamm/AFP/Getty Images
One month ago, President Trump made John Kelly his second chief of staff — and gave the general a mandate to impose order on the White House.
From one angle, this move made a great deal of sense. Throughout its first six months in power, the Trump administration had demonstrated a dire need for military discipline. The president's friends and hangers-on would stroll into the Oval Office unannounced, and distract the commander-in-chief from his official duties. Staffers from warring wings of the White House would slip printouts from far-right news blogs into Trump's reading materials, to try to get their enemies fired. And, of course, the president tweeted baseless felony accusations, memes encouraging violence against the press, condemnations of longtime U.S. allies, and ostensible threats of nuclear war without a word of input from his advisers. Amid this swirling chaos, the president had failed to pass a single piece of major legislation; saw his approval rating dip to historic lows; and, ostensibly, set off a wide-reaching criminal investigation of his entire administration by attempting to obstruct justice.
From another angle, though, the new chief-of-staff's mandate was bizarre. After all, one of Trump's many complaints with Kelly's predecessor, Reince Priebus, was that the buttoned-up Wisconsinite thought he could tell him what to do. If Trump wanted to restrict access to his Oval Office — and have all his briefing materials carefully vetted — Priebus was more than happy to oblige. The Trump White House was a Hobbesian realm of backbiting and anarchy because that's what the leader of the free world wanted it to be.
So it's not too surprising that, one month into Kelly's reign, Trump is already yearning for his administration's bygone, nasty, brutish days. As the Washington Post reports:
[S]ome of Trump's friends fear that the short-tempered president is on an inevitable collision course with White House Chief of Staff John F. Kelly.




Trump chafes at some of the retired Marine Corps general's moves to restrict access to him since he took the job almost a month ago, said several people close to the president. They run counter to Trump's love of spontaneity and brashness, prompting some Trump loyalists to derisively dub Kelly "the church lady" because they consider him strict and morally superior.




… Friends used to be able to call the White House and be patched directly through to Trump; now those calls are routed through Kelly and do not always make it to the president. Friends used to drop by the West Wing when they had time to kill, wandering to the Oval Office to say hello; now they must have an official appointment — and a clear reason — to visit.




… But Trump sometimes defies — and even resents — the new structure. He has been especially sensitive to the way Kelly's rigid structure is portrayed in the media and strives to disabuse people of the notion that he is being managed. The president continues to call business friends and outside advisers, including former chief strategist Stephen K. Bannon, from his personal phone when Kelly is not around, said people with knowledge of the calls.
At one point in late July, Trump "raised his voice with his chief of staff, whom he faulted for trying to restrict outside friends from having direct access to him."
All this raises the question: Why did Trump invite the general to impose such restrictions in the first place?
The president has often been likened to a toddler (reporters make the analogy explicitly, anonymous administration staffers, implicitly). But in his relationship to Kelly, the commander-in-chief better resembles a rebellious adolescent — one who rages against his parents' rules, even as he knows, deep down, that he needs their boundaries. Trump disdained Priebus for his hectoring, but also for his weakness; for trying to control him, but also, perhaps, for failing to. If, on some subterranean level, the president wants his impulses to be checked by a higher authority, it makes sense that he'd cast a general as that superego. After all, when Trump was an actual rebellious adolescent, he sought structure and self-discipline at military school.
On Friday morning, in an apparent response to the Post's reporting, Trump tweeted his support for Kelly.
Trump's conflicted relationship to his advisers' authority extends beyond his new chief of staff. It also manifests in the bitter deference he shows to his appointees' expertise. On Afghanistan, NAFTA, the Iran deal (thus far), trade, and a host of other issues, Trump has allowed his subordinates to override his will — often while loudly complaining about their doing so. In other instances, the president makes a point of bucking the "adults" in his White House, asserting his autonomy by contradicting their counsel, and/or making radical policy changes on a whim.
One way to interpret all of this: Trump recognizes the gulf between his capacities and his office's responsibilities. Sometimes, that recognition makes him humble; other times, desperate to deny that any such gulf exists.
"I'm president. Can you believe it?" Trump exclaimed at a press conference with House Republicans in May. From his incredulous tone, it was difficult to say whether the president was expressing elation at his improbable power, or fear of it.