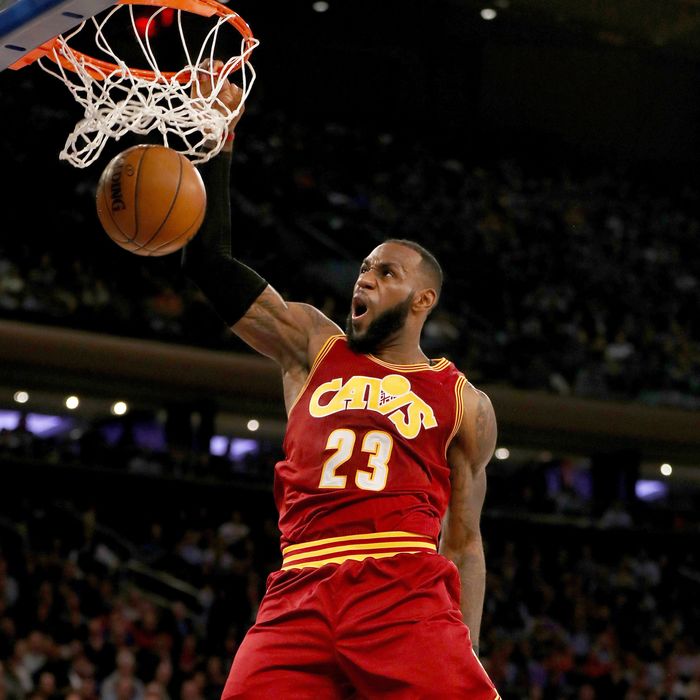 LeBron tweeting.
Photo: Elsa/Getty Images
Prominent athletes lined up to denounce President Trump after he rescinded a White House invitation to Golden State Warriors star Stephen Curry on Saturday morning and attacked NFL quarterback Colin Kaepernick for kneeling during the national anthem, indirectly calling the football player a "son of a bitch," at a rally on Friday night. Some of the most notable responses below:
LeBron James's tweet received hundreds of thousands of retweets and likes.
President Trump redoubled his position later in the day.
Earlier, he had tweeted that he was taking back a White House invitation to Curry, one of the best players in the NBA.
Curry has been outspoken in his criticism of Trump and said on Friday that he did not want to attend White House celebrations in honor of the Warriors who won the NBA title this year — so Trump's tweet was the equivalent of "You can't fire me, I quit!" After Trump's tweets, the Warriors announced that nobody on their team would be visiting the White House, though the team will still make it to Washington.
(Trump was probably moved to make his intemperate declaration about Curry by his favorite TV show, Fox & Friends, which had aired a segment on the matter shortly before Trump's tweet. Yes, this is real life.)
In a related development, the University of North Carolina championship basketball team announced it would not visit the White House this year. A spokesperson said the team was "fine with going" and cited scheduling conflicts.
At a rally in Alabama Friday night in support of Senator Luther Strange's election bid, President Trump delivered one of his signature rants, focusing on players who have chosen to kneel as the national anthem is being played. Kaepernick, the now-blackballed quarterback who kicked off the trend in an effort to draw attention to racially biased policing (sparking an ongoing culture-war skirmish in the process), is the most prominent example.
"Wouldn't you love to see one of these NFL owners, when somebody disrespects our flag, to say, 'Get that son of a bitch off the field right now, out, he's fired. He's fired!'" Trump said. He encouraged fans to leave games when players kneel for the anthem.
He also went off on the NFL in general, denouncing the league for penalizing tackles that could lead to dangerous injuries — though he said that many owners were "friends of mine," and indeed, several gave generously to his campaign. (Trump, it should be noted, once hastened the destruction of a league competitor.)
The president's comments drew a vigorous response from the National Football League Players Association:
And NFL commissioner Roger Goodell issued an unusual, though much less strong, statement:
Colin Kaepernick's mother had a more amusing take on the situation.
The hashtag #TakeAKnee was trending on Twitter Saturday morning, leading to speculation that more players would follow Kaepernick's lead on Sunday.
Just last week — though it now seems like months ago — Trump criticized ESPN after Jemele Hill, a prominent black network personality, called the president a "white supremacist" on Twitter. White House Press Secretary Sarah Huckabee Sanders called for Hill to be fired from the network. In a message to employees, ESPN president John Skipper said that the network is "about sports" and that commentary about politics should not be "inflammatory or personal." But in a world where the president routinely attacks athletes by name, it has become increasingly clear that the division between the two worlds has all but disappeared.