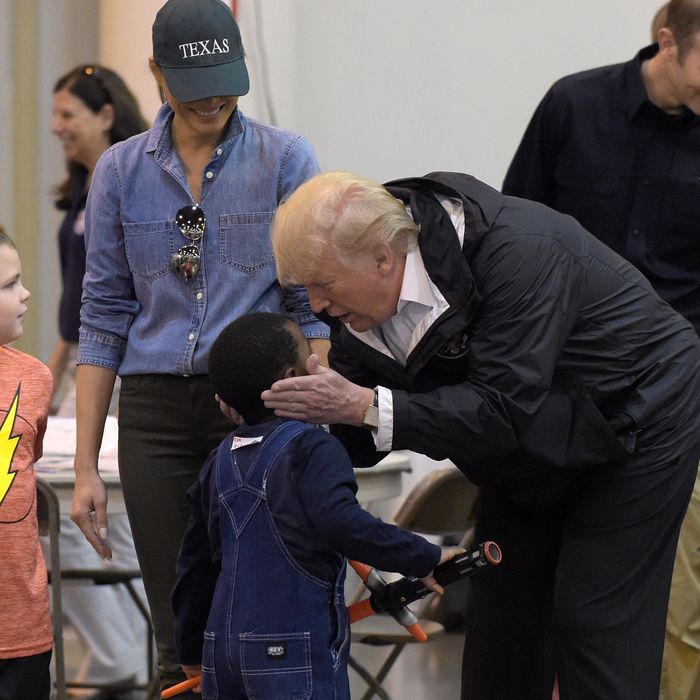 President Donald Trump and First Lady Melania Trump meet people affected by Hurricane Harvey during a visit to the NRG Center in Houston.
Photo: Susan Walsh/AP
President Trump returned to Texas on Saturday, appearing at a Houston shelter housing residents who were forced from their flooded homes by Hurricane Harvey. It was Trump's second visit to the state since the storm deposited as much as 50 inches of rainfall, leading to catastrophic flooding. His previous visit, on Tuesday, elicited criticism since Trump did not meet with any victims of the unfolding disaster or express direct empathy for them. Saturday's return seemed designed, in part, to counteract that criticism and demonstrate that Trump was capable of showing basic human emotions in response to tragedy. (Notably, the president did not wear a $40 hat being sold by his reelection campaign on this trip.)
On Friday, the White House announced that it was seeking an initial $7.9 billion relief package from Congress to assist with the recovery efforts.
On Saturday, the president, accompanied by First Lady Melania Trump, Texas governor Greg Abbott, FEMA director Brock Long, and several other members of the president's cabinet, paid a 45-minute visit to the NRG Center in Houston, which has served as an evacuation center and shelter for those displaced by the storm and floodwaters. It was Trump's first appearance in the actual disaster zone, and he spoke with victims, served meals with the Red Cross, and posed for photos.
Of course, Trump being Trump, his visit also featured plenty of odd moments. As he did on Tuesday, Trump seemed focused on promoting how well the government had responded to the disaster, telling reporters at the NRG Center that the government's efforts have "been very well received — even by you guys" and that victims had told him they were "really happy with what's going on."
"We saw a lot of happiness [among the families]. It's been really nice. It's been a wonderful thing. As tough as this was, it's been a wonderful thing, I think even for the country to watch, and for the world to watch. It's been beautiful." Trump said to the press.
Trump also joked about how the food-service gloves he tried to put on didn't fit because "my hands are too big":
The president autographed the wall of the Houston shelter, for some reason, too:
Afterward, he toured one of the neighborhoods that had been flooded during the storm:
The president also stopped by a church in Pearland, Texas, which was being used as a distribution center. There, he praised relief workers, helped load supplies into cars, and made some remarks from a stage, insisting that the government would help Texas rebuild. Introducing some of his cabinet members, he included characteristic digressions about Education Secretary Betsy DeVos's media coverage and the administration's handling of veterans' health care.
Trump was scheduled to visit southwestern Louisiana later in the day, as well.