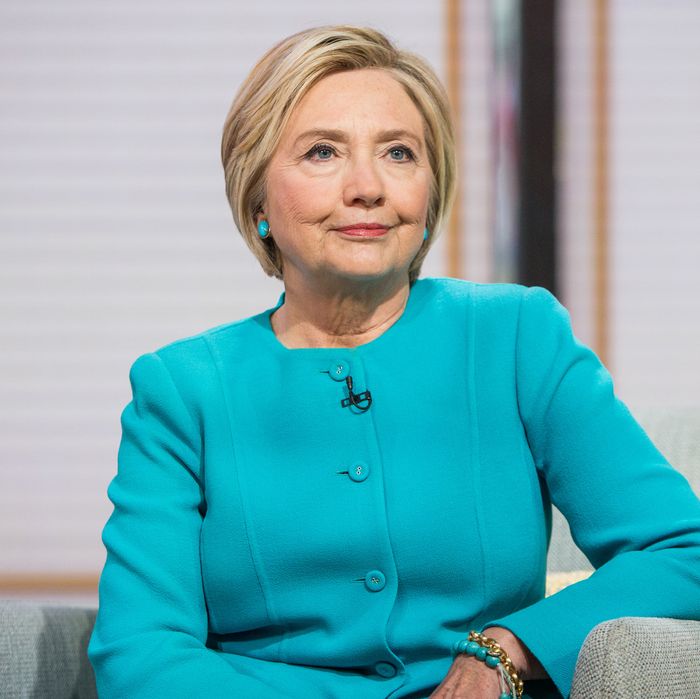 Two tiny thumbs down.
Photo: NBC/NBCU Photo Bank via Getty Images
Hillary Clinton is taking flak from both sides of the political spectrum for deciding to write a book about her experience during the 2016 presidential campaign, rather than retreating to the woods, never to be heard from again.
With Clinton making the media rounds — sharing her opinions on everything from abolishing the Electoral College, to wanting to tell Trump"back up, you creep" during a debate, to alternate-nostril breathing — it seemed odd that President Trump had said so little in response.
On Tuesday, White House press secretary Sarah Huckabee Sanders said she didn't know if the president would read What Happened, but the official stance of the Trump administration is basically "Sad!"
However, it seems when Trump wasn't striking deals with Democrats over the past few days, he was poring over Clinton's 512-page tome. Or listening to the 17-hour unabridged audiobook. Or just piecing together what she said from Fox News and social-media posts. Late on Wednesday night, Trump offered this brief review:
Trump's right: It's just like Crooked Hillary not to repeatedly say that she blames herself for letting her supporters down. Still, "lost her direction" and "had no game"? We were expecting a more creative counterpunch from the man who once made up an elaborate conspiracy theory about his predecessor wiretapping his home — or at least something appallingly vulgar.