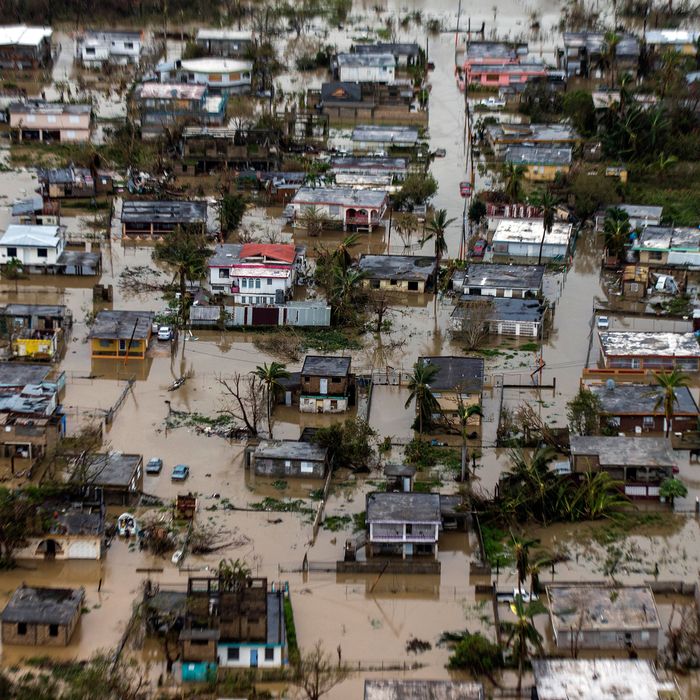 Flooding in Puerto Rico.
Photo: Dennis M. Rivera Pichardo/The Washington Post/Getty Images
Alarming dispatches continue to roll in from Puerto Rico, which was devastated by Hurricane Maria last week. Almost all of the territory is still without power, and it may not be restored for several months. Water, food, gas, and cash are difficult to obtain. Some 80 percent of Puerto Rico's crop value has been wiped out. Hospitals are barely functioning, and people with severe health problems are wondering how they can survive. So far 16 are dead, and the number is almost sure to rise. Puerto Rico's 3.5 million American citizens are growing desperate.
But President Trump still hasn't said a word about any of it. Instead, from Saturday to Monday afternoon, he used his Twitter megaphone to provoke fights with professional athletes over the national anthem, with a threat to annihilate an entire nation thrown in for good measure.
The actual response on the ground in Puerto Rico takes precedence over presidential thoughts and prayers, of course. On Sunday, with San Juan's port reopened, federal aid began flowing to the island in earnest, with 1.6 million gallons of water, 23,000 cots, and dozens of generators arriving.
FEMA, which has been coordinating aid throughout the island, said it would bring satellite phones to every town and city, many of which have been almost completely cut off from communication since the storm hit.
Puerto Rican officials, most notably the territory's governor, Ricardo Rosselló, have urged the federal government to do more, while avoiding direct criticism of President Trump, or the federal response thus far. The job isn't easy; all delivery of aid is made vastly more complicated by Puerto Rico's island status, and there are also bureaucratic barriers like the Jones Act, a much-derided shipping law that causes logistical headaches.
"We still need some more help. This is clearly a critical disaster in Puerto Rico," Rosselló said on Sunday night. "Whatever relief package we have, whatever impact we have, we are U.S. citizens," he continued. "We shouldn't be the lesser for it."
House Speaker Paul Ryan said on Monday that "Congress is working with the administration to ensure necessary resources get to the U.S. territory," and the Trump administration reportedly plans to send an aid package for Puerto Rico to Congress in the first or second week of October. On Monday afternoon, White House Press Secretary Sarah Huckabee Sanders said FEMA administrator Brock Long and Homeland Security aide Tom Bossert were headed to the island, though she did not mention it during her opening remarks.
Still, on Monday and over the weekend, there was a sense from commentators, Puerto Rico–linked celebrities, and politicians that Washington was not showing much sense of urgency in its response.
Though he was merely clearing his own low attention-span bar, President Trump seemed at least sort of engaged when Hurricane Harvey hit Texas, and again when Hurricane Irma slammed into Florida earlier this month. (And the federal response to those disasters didn't devolve into the debacle many feared, given the administration's generally slapdash way of doing things.)
So it's odd that Trump, whose experience so far with the island appears to have been limited to a bankrupt golf course, has not felt the need to weigh in. Whether his silence is because of Puerto Rico's lack of electoral-college clout — or because Trump doesn't understand that the territory is part of the United States, or because of his general discomfort with Spanish-speaking people — is impossible to say.
But Puerto Rico, which has no power in the electoral college, had felt neglected by the mainland long before Maria hit. The country has been dealing with a debilitating debt crisis brought on by the American recession, which had pitted it in a bitter, complex legal battle with the U.S. government. A newly energized but controversial fight for statehood has been largely ignored by Washington. Poverty levels are higher than anywhere in the continental U.S. And then there's the language barrier.
If the federal response seems sluggish – why would Congress even think about waiting weeks to fund a recovery package? – it would be of a piece with the second-class status the U.S. has accorded the island for most of its history.
So Trump's snubbing of the territory's plight is, in a way, sadly par for the course. But that doesn't make it any less inexplicable.