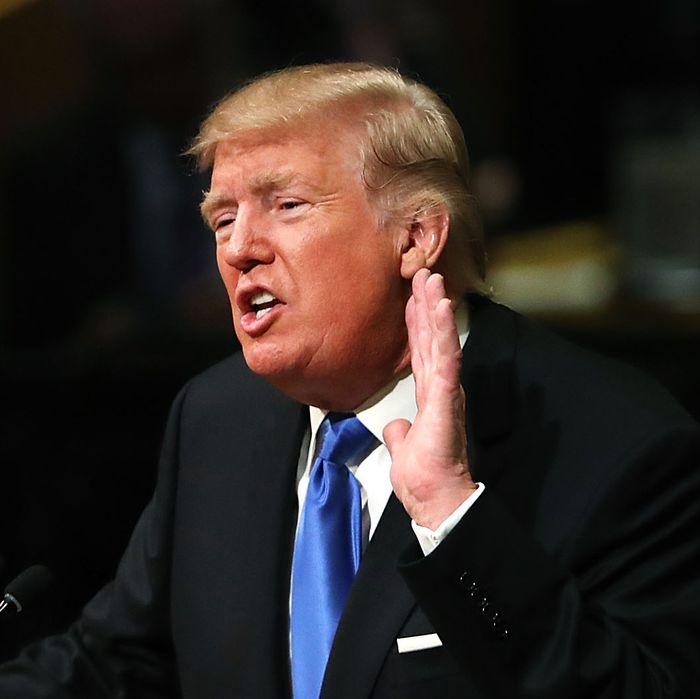 Trump addresses the United Nations General Assembly on Tuesday.
Photo: Spencer Platt/Getty Images
President Trump teased reporters on the fate of the Iran nuclear deal on Wednesday morning, repeatedly telling them, "I have decided," but refusing to say what his call actually is.
Now four sources, including a senior administration official, are trying to spoil his big season-finale reveal. They tell NBC News that he's leaning toward decertifying the deal before the next compliance deadline on October 15. Rather than immediately ending the agreement, that would kick the decision to Congress, which would then have 60 days to decide whether to reimpose the sanctions that were lifted as part of the 2015 agreement.
During that time, Trump would try to get the nations that negotiated the deal — Britain, China, France, Germany, and Russia — to renegotiate some of its provisions with Iran. The other nations seem to agree with international inspectors, who say Iran is complying with the terms of the agreement.
French president Emmanuel Macron said that during his meetings with Trump on the sidelines of the U.N. General Assembly this week, he urged him not to scrap the deal just because it's an Obama policy. "What else do we have? We would be put in the North Korea situation," he said.
In his address to the U.N. on Wednesday, Iranian president Hassan Rouhani hit back at Trump — whose own address included a scathing attack on Iran — saying, "It will be a great pity if this agreement were to be destroyed by rogue newcomers to the world of politics."
From DACA to actually coming up with the details of a tax-reform plan, Trump is fond of letting Congress make difficult decisions for him. Nikki Haley, the U.S. ambassador to the U.N., began laying the groundwork for the move earlier this month when she suggested in a speech at the conservative American Enterprise Institute that Iran is at the very least violating the spirit of the agreement.
"I get that Congress doesn't want this,'' Haley said. "This is not an easy situation for anyone.'' She added: "But our lives are not about being easy. Our lives are about being right."
Still, the sources cautioned that Trump may change his mind in the next few weeks as he hears complaints from U.S. allies about threatening the agreement. Trump shifting his stance is usually a good bet.
While it may say more about his regard for Rex Tillerson, Trump hadn't even informed his secretary of State that he'd made up his mind about the Iran deal. When Tillerson said Trump was "still considering" how to proceed on Wednesday, a reporter corrected him, noting that the president had just said he'd made a decision.
"I didn't know he was going to say today he made a decision," Tillerson said, with a sheepish look. He then claimed, "I knew he had, but I didn't know he was going to say he had."