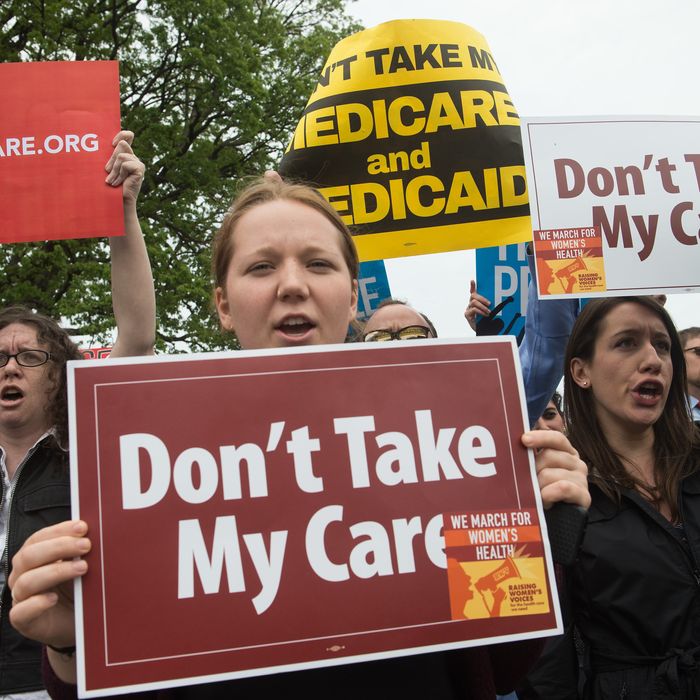 People protest the Republican effort to repeal and replace Obamacare on May 4, 2017, in Washington, D.C.
Photo: NICHOLAS KAMM/AFP/Getty Images
Last week, America's last "bare" county found an insurer for its health-insurance exchange, meaning Obamacare officially isn't collapsing. But it soon will be, if the Trump administration has anything to say about it.
Just days after a Trump official, who refused to give their name, told a group of journalists that the administration wants to stabilize the health-insurance markets, it announced a move that will do the opposite. On Thursday the Department of Health and Human said that for the 2018 Obamacare enrollment season, the program's advertising budget will be cut from $100 million to $10 million. Funding for navigators, who help people enroll in health plans on the exchanges, will be cut from $63 million last year to about $37 million.
The move is not very surprising. In January, the Trump administration pulled ads for Obamacare in the final days of the enrollment period, though they'd already been paid for. And last month the Daily Beast revealed that the Trump administration used taxpayer money meant to encourage enrollment to launch a public-relations campaign, complete with social-media posts and video testimonials on the supposed evils of Obamacare.
According to Politico, the federal government will still run some digital and radio ads for Obamacare, but scaling back the enrollment push could mean fewer sign-ups from the younger, healthier people who are necessary to offset the costs of older, sicker, and costlier enrollees.
The far bigger question, when it comes to Obamacare sabotage, is whether the Trump administration will continue the cost-sharing reduction payments that reduce costs for low-income customers. There's bipartisan support in Congress for continuing the payments and stabilizing the insurance market, but President Trump still won't say whether he intends to keep making the payments. The uncertainty heading into the 2018 enrollment period, which starts on November 1, means that even if the payments continue, those who buy insurance on the exchanges next year may be in for doubt-digit premium hikes.