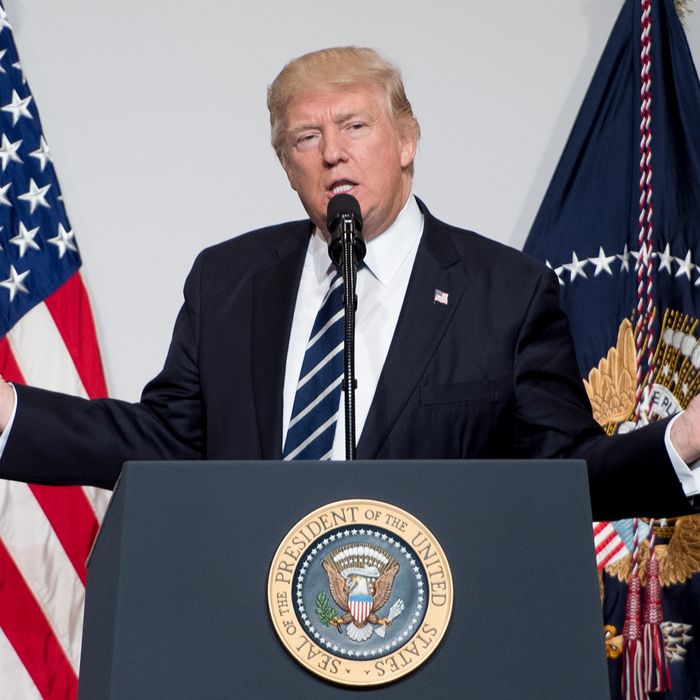 President Trump addresses the annual National Republican Congressional Committee dinner on March 21.
Photo: JIM WATSON/AFP/Getty Images
President Trump is a billionaire, but he prefers to spend other people's money whenever possible. As the Washington Post's David A. Fahrenthold doggedly reported during the 2016 campaign, Trump stopped donating to his personal foundation in 2008, yet he's been accused of using the funds other people donated to support political causes and buy himself gifts. After it was discovered that he was using Donald J. Trump Foundation money to settle lawsuits against him and his companies, he had to promise not to use the charity to pay off the $25 million settlement related to fraud lawsuits against Trump University.
Now it appears Trump is applying this principle to his legal fees related to the Russia probe. Reuters reported on Tuesday that Trump is using money donated to his reelection campaign and the Republican National Committee to pay the lawyers he hired to handle the Russia case. According to CNN, the RNC paid more than $230,000 in August to cover Trump's Russia-related legal fees:
The RNC paid Trump's personal attorneys Jay Sekulow and John Dowd $131,250 and $100,000, respectively, via their law firms, the official said. The fees to Sekulow's law firm covered work by other attorneys at his firm, the Constitutional Litigation and Advocacy Group, a person familiar with the payments said.




The payments will be disclosed in the RNC's spending report for the month of August, which the committee plans to release on Wednesday.
When asked about how Trump's bills were being paid, Dowd told Reuters, "That's none of your business." Later, RNC spokesperson Cassie Smedile confirmed CNN's figures.
The RNC has also paid nearly $200,000 to the law firm of Alan Futerfas, who is representing Donald Trump Jr. The president's son became more deeply embroiled in the Russia case when it was revealed several months ago that he met with several Kremlin-connected Russians during the campaign.
The Trump campaign's role is less clear. The campaign has paid the law firm Jones Day nearly $4 million, mostly for routine campaign expenses — but the firm has also done some work related to the Russia investigation. The campaign is due for another financial disclosure on October 15.
Trump's use of RNC and campaign funds is legal, but unprecedented. While other presidents have used such funds to cover election-related legal expenses, Trump is the first to have them cover fees related to a federal investigation.
Smedile said the RNC's payments came "from a preexisting legal-proceedings account and do not reduce by a dime the resources we can put toward our political work." CNN notes, "Wealthy donors to the RNC typically donate to such funds when making large contributions."
The Trump campaign is still soliciting donations as small as $3, and theoretically supporters may be irritated that their contributions are helping the president cover his Russia-related expenses. But the reports may be far more damaging within the Trump administration. Thanks to the Russia probe, even Trump's lawyers have been forced hire lawyers, and, according to multiple reports, some less-wealthy White House staffers are struggling to afford their high-priced attorneys. Presumably they won't be pleased to learn that their billionaire boss is letting others cover his family's legal fees, while they're forced to liquidate their children's college funds.