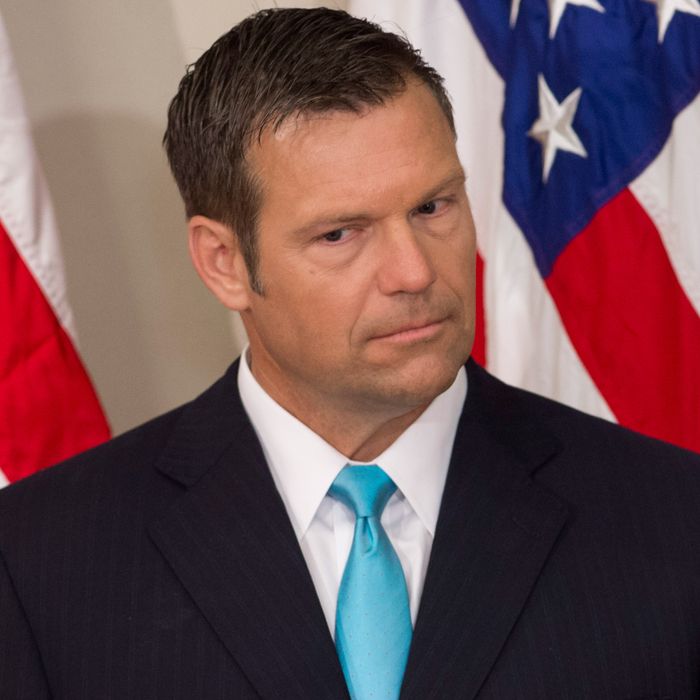 Fraud, fraud everywhere!
Photo: Saul Loeb/AFP/Getty Images
President Trump's Commission on Election Integrity is set to meet in public for the second time in New Hampshire on Tuesday. The group's Orwellian name belies its real motive: to lend credence to President Trump's belief that millions of fraudulent ballots cost him the popular vote in 2016 — and to make it harder for people to vote by insisting, wrongly, that voter fraud is a widespread problem.
HuffPost's Sam Levine has a good breakdown of Tuesday's agenda. A sample:
Von Spakovsky, a member of the commission, also submitted a database from the conservative Heritage Foundation claiming to contain nearly 1,100 of instances of voter fraud. The Brennan Center for Justice released its own analysis of the report Friday, debunking many of the instances of alleged fraud. John Lott, a controversial gun researcher whose work has been questioned, submitted a presentation to the committee saying people who don't have photo ID ― which several states require to vote ― can get it if they're motivated enough.
The meeting's location is appropriate. Kris Kobach, the panel's vice-chairman, who has become a national figure by propagating easily disprovable claims about voter data, recently wrote in Breitbart that "facts have come to light that indicate that a pivotal, close election was likely changed through voter fraud on November 8, 2016: New Hampshire's U.S. Senate Seat, and perhaps also New Hampshire's four electoral college votes in the presidential election."
That explosive claim was based on simple, likely willful ignorance of New Hampshire law, which classifies students as separate from residents.
In July, Kobach requested voter data from all 50 states, provoking an intense backlash from Democrats and Republicans alike — though his mere request inspired at least a few thousand people to de-register from the rolls.
Meanwhile, the New York Times recently reported that Russian cyberattacks were far more widespread and effective in 2016 than previously known, and that little has been done to prevent similar violations in the future. A credible version of Kobach's commission would be focusing its efforts on securing America's vulnerable voting systems (encouraging the use of paper ballots might be a start) and making it easier for citizens to cast ballots, not engaging in an elaborate exercise in confirmation bias.
It's still unclear what the Commission on Election Integrity will end up actually doing, if anything. But simply by propagating a steady stream of misinformation, it is already sowing the sort of distrust in the country's electoral process that it is ostensibly trying to fix.