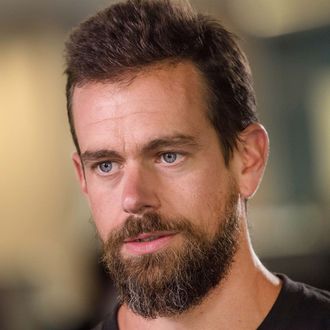 Twitter CEO Jack Dorsey.
Photo: David Paul Morris/Bloomberg via Getty Images
This afternoon, Twitter made a presentation to Congress about the role its network played last year — and continues to play — in attempts by state actors (read: Russia) to disrupt American politics. The statement the company put out later is interesting, but oddly unsurprising: Anyone who's spent a decent amount of time on Twitter in the past couple of years knows that the site has been infested with automated accounts for a long time. Still, the scale is impressive: "On average," Twitter announced in a blog post this afternoon, "our automated systems catch more than 3.2 million suspicious accounts globally per week — more than double the amount we detected this time last year."
Twitter is a public, searchable platform, which means it doesn't face the same transparency issues as Facebook, where privacy filters and ad-sales mechanisms prevented users from seeing, for example, all of the posts put up by a given account (at least until recently). That's one of several reasons why Twitter's announcement that Kremlin-linked news agency Russia Today purchased $274,100 worth of ads is less concerning than Facebook's recent revelations about Russian ad purchases: No one in particular was deceived about who'd bought those ads, or was targeted in a way that made the ads otherwise invisible.
On the other hand, Twitter faces problems of automation that Facebook doesn't — generally, bots are used to spread false information or manipulate trending topics to make it appear as if a subject is more significant than it actually is. It's basically a very complex spam problem. Twitter threw out some statistics to reflect this problem: The company catches "about 450,000 suspicious log-ins per day"; last week it found "5.7 million spammy follows from a single source." "Since June 2017, we've suspended more than 117,000 malicious applications for abusing our API," the statement reads, "collectively responsible for more than 1.5 billion low-quality Tweets this year." Even heavy Twitter users only produce a few thousand low-quality tweets a year. (Hey!)
Still, spam problem aside, Twitter remains a valuable and important news hub, even if it can't reach the scale of a Facebook or a Google. News spreading fast on Twitter is likely to make its way into papers and onto TV — or, potentially, commented on or retweeted by the president himself. Hijacking Facebook might help persuade the electorate, but hijacking Twitter might help persuade our doofus president. Which is why it's also welcoming that in its announcement today, Twitter reaffirmed a commitment to media literacy. Even once the site is cleaned of bots, people will need to be smart about what they read.