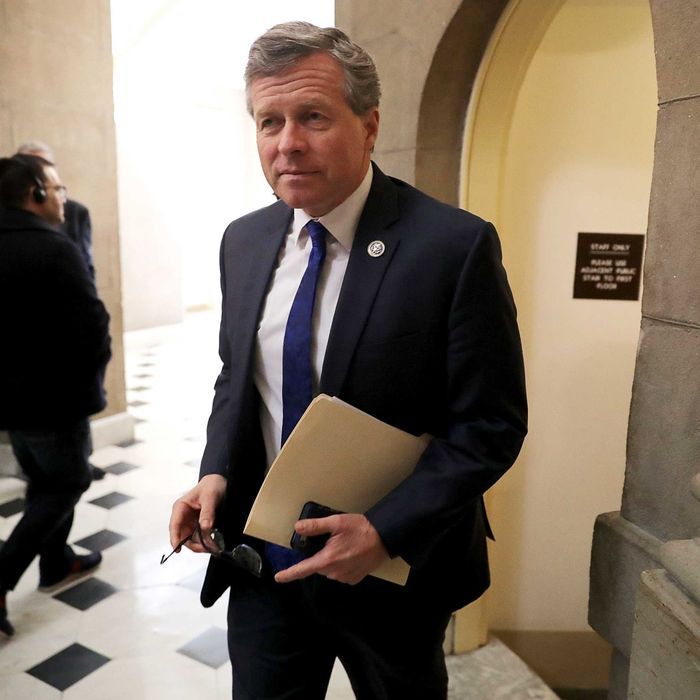 Making a Dent in his party's majority.
Photo: Chip Somodevilla/Getty Images
As leader of the Democratic Congressional Campaign Committee in 2006, Rahm Emanuel oversaw the party's last midterm triumph — a big, blue-wave election that set the stage for a full takeover of the federal government two years later.
Democrats are, of course, hoping to pull off a similar trick next fall. And there's reason to think they just might. While the congressional maps will be far bleaker for Team Blue in 2018 than they were in 2006 (thanks, in part, to Republican gerrymandering), the party has a narrow path to a House majority — and, once again, the benefit of running against an unpopular, transparently incompetent president.
But when Emanuel sat down discuss next year's midterms with David Axelrod last month, he noted that one critical condition of his 2006 success had yet to materialize.
"One of the things that's missing for this year," Emanuel told Obama's former campaign manager, "[is] 18 open seats. Right now there's only one retirement on the Republican side."
Even in a wave election, it's hard to knock off incumbents, with their built-in advantages in name recognition and fundraising. The opposition thrives on an open playing field. Democrats gained a lot of seats in 2006. But they failed to knock off a whole lot of swing-district incumbents, including Pennsylvania's Charlie Dent and Washington's Dave Reichert.
So, Democratic apparatchiks were surely ecstatic this week, when Dent and Reichert both announced that they would be retiring in 2018.
For 13 years, Reichert has represented a district in the Seattle suburbs that's home to a nearly even number of Democrats and Republicans. Last fall, Clinton carried the district by three points; in 2012, Obama also narrowly won the area. But even with the favorable environment, and the region's Democratic tilt, the Cook Political Report still rated the district "likely Republican" for 2018, before Reichert called it quits. Now that the GOP will lack the benefits of incumbency, the prognosticator has changed its rating to "toss up."
Dent's home base is a couple shades redder than Reichert's. Pennsylvania's 15th district — which spans Allentown, Bethlehem, and much of the Lehigh Valley — went for Mitt Romney by three points in 2012, and for Trump by eight in 2016. But in both elections, Dent far outran his party's standard-bearer.
As leader of the Tuesday Group, a caucus for the House's (so-called) moderate Republicans, Dent fashioned his own, idiosyncratic political brand. Last spring, he bucked his party's efforts to repeal Obamacare. In the summer, he led the moderate opposition to conservatives' proposed spending cuts. In a statement announcing his retirement, Dent referenced his growing isolation from the increasingly reactionary congressional GOP. "As a member of the governing wing of the Republican Party, I've worked to instill stability, certainty and predictability in Washington," Dent said. "I've fought to fulfill the basic functions of Government, like keeping the lights on and preventing default. Regrettably, that has not been easy given the disruptive outside influences that profit from increased polarization and ideological rigidity that leads to dysfunction, disorder and chaos."
According to the New York Times' Jonathan Martin, Dent isn't the only Republican "moderate" who feels that way — and he won't be the last to part ways with his ideologically rigid colleagues.
An exodus of the House's last-surviving moderate Republicans would greatly increase Democrats' chances of regaining a majority. But it would also greatly increase the chances that the House GOP will become even more radically reactionary next year.
While Dent claims that he had made his decision to retire after this term long ago, his announcement came just one day after state representative Justin Simmons launched a primary challenge against him.
"I think right now we could say, 'Mission Accomplished,'" Simmons told Politico Thursday. "We wanted to make sure we got a more conservative candidate in the seat, and now we can do that."