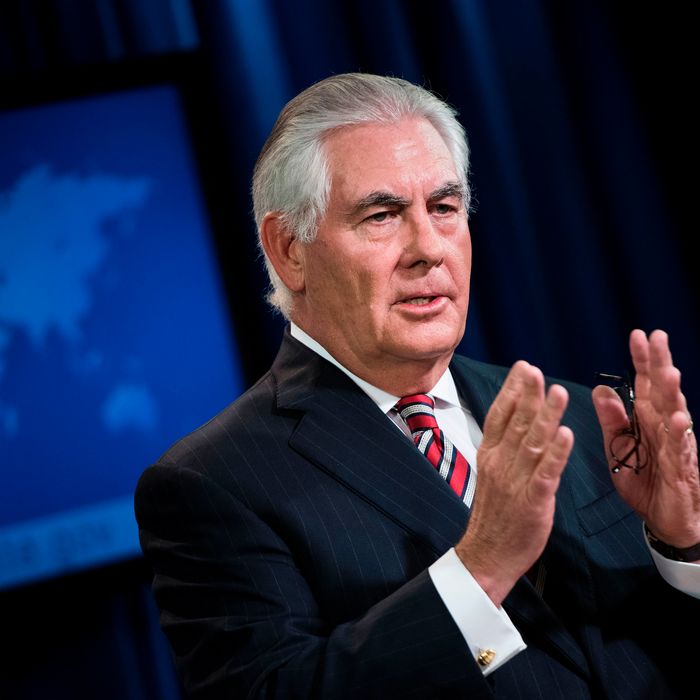 Tillerson says the U.S. has dropped Pyongyang a few lines.
Photo: Brendan Smialowski/AFP/Getty Images
The Trump administration is communicating directly with the North Korean government, Secretary of State Rex Tillerson confirmed on Saturday. It was the first time anyone in the White House has acknowledged such efforts, though Tillerson did not say whether the regime in Pyongyang had been receptive to the communications. The U.S. is "probing" to see if North Korean leader Kim Jong Un would be open to negotiations, Tillerson said, "so stay tuned." (Update: The answer appears to be no, if the U.S. is still asking the country to get rid of its nukes.)
"We ask, 'Would you like to talk?' We have lines of communications to Pyongyang. We're not in a dark situation, a blackout. We have a couple, three, channels open to Pyongyang, we can talk to them, we do talk to them," Tillerson explained, adding that he thought that the "whole situation is a bit overheated right now," and would be made less complicated if North Korea stopped firing missiles.
The confirmation of the back-channel efforts came after a day of meetings in China between Tillerson and Chinese government officials, including one with President Xi Jinping. Tillerson has avoided references to North Korea during his visit, in what the Washington Post suggested may be an attempt to avoid another round of inflammatory rhetoric.
It's not clear when direct communications between the U.S. and North Korea began. Within the past two weeks, President Trump and North Korean officials have exchanged numerous threats and insults, including North Korea's assertion that it would shoot down U.S. warplanes even if they aren't flying in North Korean airspace.
There were also signs of a thaw, however. North Korean officials had reportedly reached out to GOP-linked analysts in an attempt to decipher Trump's responses to the crisis. "Their number-one concern is Trump. They can't figure him out," a source told the Washington Post.
Now, North Korea will have the additional option of using the State Department as President Trump's bluster translator. But as is usually the case, it remains to be seen whether Trump himself will play along with his administration's diplomatic efforts — assuming North Korea is even interested, which apparently they aren't: