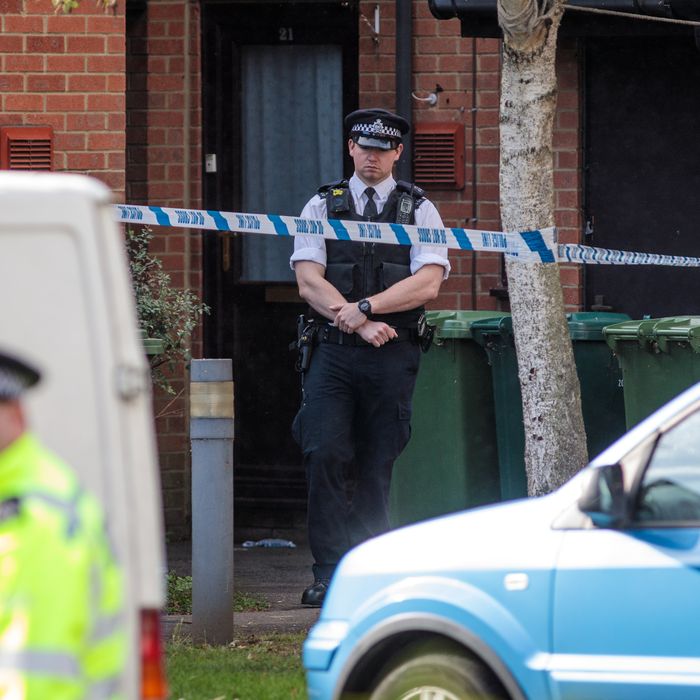 Police officers on the scene during a search on an address in Stanwell on Sunday.
Photo: Jack Taylor/Getty Images
British police have arrested a second man in connection with the terrorist attack at a London Tube station on Friday morning. A 21-year-old man was arrested in West London late Saturday night, following an earlier arrest of an 18-year-old man in the port town of Dover. U.K. officials also downgraded the country's terrorism threat level from "critical" to "severe" on Sunday, meaning an imminent terrorist attack was no longer expected. Assuming both suspects were indeed involved in the bombing, that would mean it was a coordinated attack, rather than the act of a lone-wolf terrorist. Neither man has been publicly identified by British authorities, and both continue to be held under the country's Terrorism Act, which allows terrorism suspects to be detained without charges for up to two weeks.
Police have searched two suburban London homes that are believed to be linked to the suspects, one in Sunbury-on-Thames and another in Stanwell. The home in Sunbury-on-Thames, linked to the 18-year-old, reportedly belongs to an elderly couple who have acted as foster parents to hundreds of children over the last 40 years, including, according to neighbors, eight refugees. The neighborhood surrounding that home was temporarily evacuated on Saturday.
Of the 30 people who were injured when an improvised explosive device went off aboard a train at the Parsons Green Underground station on Friday morning, only one remains hospitalized, according to the National Health Service. None of the injuries were ever considered life-threatening, as most victims only sustained flash burns when the malfunctioning bomb went off, likely prematurely. Westminster Station, which was on the same Underground line as Parsons Green, was a more likely target.
The device, the Sunday Times reports, was a plastic bucket packed with nails and TATP — a favorite homemade explosive material among ISIS-linked terrorist cells — and it was fitted with a timer, suggesting the bomb was not intended to be used in a suicide attack. Indeed, police believe the bomber was not present, or meant to be present, when the device went off. Regardless, if the bomb had functioned properly, it could have been extremely dangerous.
ISIS claimed responsibility for the attack using one of its media channels on Friday, but offered no evidence to support its claim. In addition, the British home secretary, Amber Rudd, said in a BBC interview on Sunday that there was no evidence that ISIS was involved, at least yet.
Rudd also echoed Prime Minister Theresa May's Friday comments criticizing President Trump for his reaction to the attack. Not long after the bombing was reported, Trump speculated on Twitter that there was "another attack in London by a loser terrorist," adding that, "These are sick and demented people who were in the sights of Scotland Yard. Must be proactive!" He then proceeded to use the attack to call for an expansion of his controversial and court-challenged "travel ban" on immigrants from several Muslim-majority countries — a ban the U.K. has opposed as counterproductive in the fight against ISIS.
Said Rudd on the BBC on Sunday, "It is never helpful to have speculation about an ongoing operation and I would include the president of the United States in that comment."