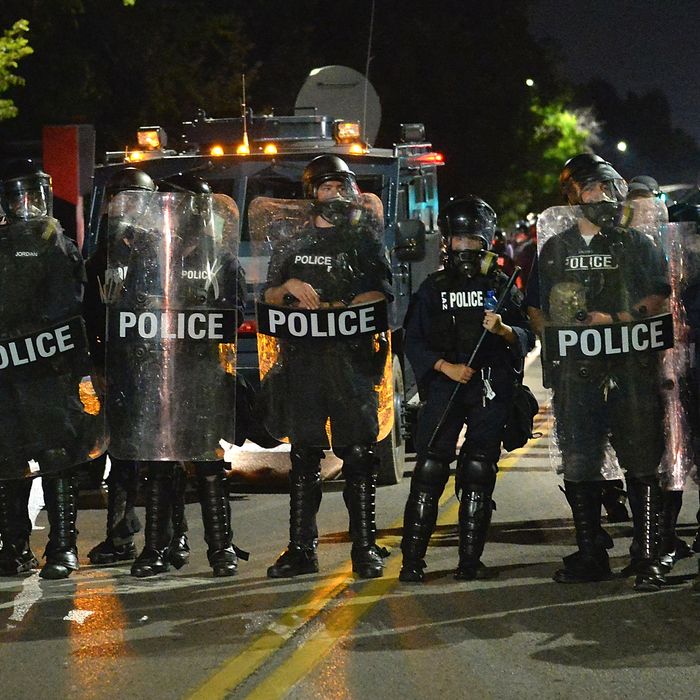 St. Louis police officers on Friday night.
Photo: Michael B. Thomas/Getty Images
Hundreds of protesters took to the streets of St. Louis on Friday after a judge found a white police officer not guilty of first-degree murder in the 2011 killing of a black man. It was the latest in a long line of similar verdicts around the country.
The march was mostly peaceful at the outset, with some disturbing exceptions:
But after night fell, about a thousand people gathered at Mayor Lyda Krewson's house, knocking on the door, breaking two of her windows with bricks, and throwing red paint. (There was no indication that they mayor was home at the time.) About 200 riot police arrived and used tear gas and pepper-spray pellets to disperse the crowd. Nine officers were injured as cops clashed with protesters, and a police spokesperson said that 32 people had been arrested. Some restaurants and other businesses were damaged as well.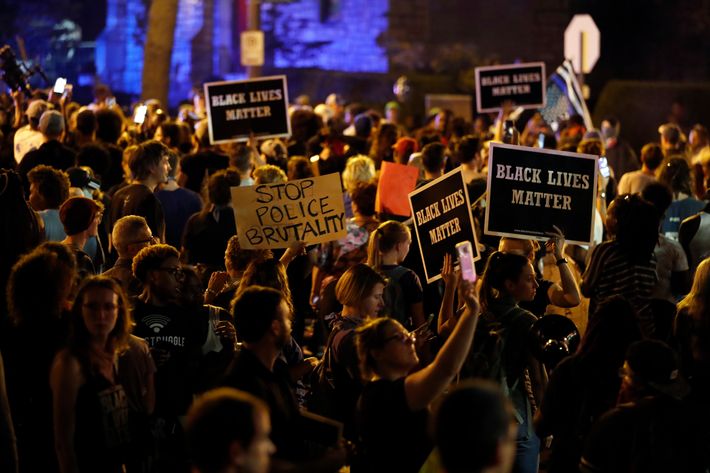 Activists planned a number of additional protests over the weekend.
On Friday afternoon, St. Louis circuit judge Timothy Wilson ruled that Officer Jason Stockley was not guilty of first-degree murder in the case of Anthony Lamar Smith, whom he shot and killed in December 2011.
According to Stockley's version of events, he saw Smith and another man conducting a drug deal behind a restaurant. When he approached them, one man ran away, and Smith got in his car and fled. Stockley then gave chase with his car, eventually ramming Smith's vehicle and shooting him after he allegedly reached for a gun.
But dash-cam video appeared to capture Stockley saying that he was "going to kill this motherfucker, don't you know it" during the pursuit. And a gun Stockley said he saw in Smith's car was found to contain only Stockley's DNA, leading the prosecution to contend that he had planted it there to justify the shooting.
On Friday, Judge Wilson agreed with Stockley's version of events, ruling that the prosecution had failed to prove that he did not act in self-defense. The judge also wrote that the officer's caught-on-tape remark was insignificant because "people say all kinds of things in the heat of the moment or while in stressful situations."
He also said it would be surprising if Smith, an "urban heroin dealer," did not carry a gun, a characterization that drew a harsh response from the attorney for Smith's fiancée and daughter.
"We all know what 'urban' means. Urban means 'black,'" attorney Al Watkins said. "I find that to be offensive. I find that to be demonstrative of a judge who thinks that those who are reading this verdict are morons."
Stockley was charged with first-degree murder in 2016 and opted for a bench trial rather than face a jury. He resigned from the police force in 2013 after carrying an AK-47 rifle on duty. On Friday, he told the St. Louis Post-Dispatch that "it feels like a burden has been lifted, but the burden of having to kill someone never really lifts."
Ferguson, Missouri, a suburb of St. Louis, saw widespread protests in 2014 following the death of black teenager Michael Brown at the hands of a white police officer.