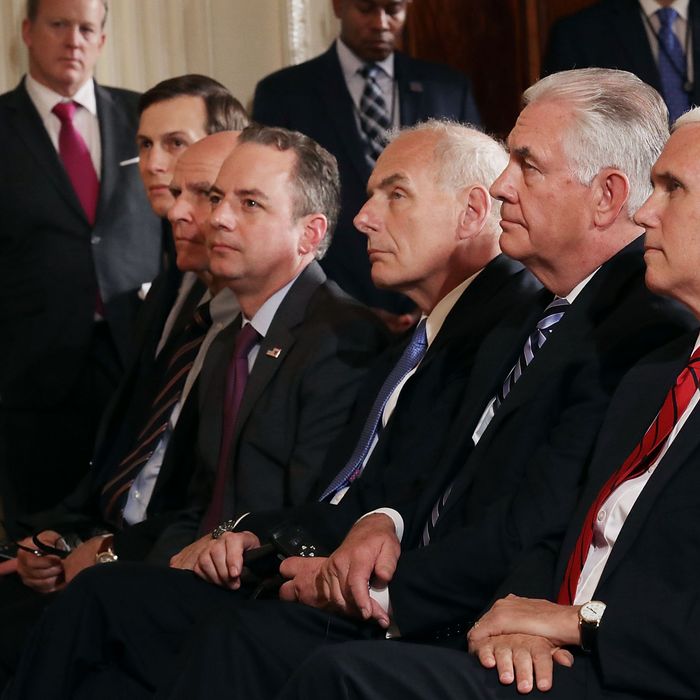 We're listening.
Photo: Chip Somodevilla/Getty Images
Thanks to the U.S. Office of Government Ethics, lobbyists now have the opportunity to donate to a very needy cause: Trump staffers' legal defense.
Politico reports that the ethics watchdog quietly reversed its internal policy that banned lobbyists from making anonymous donations to White House staffers' legal defense funds. The issue centers on a 1993 internal guidance document that said government employees could solicit money for their legal defense funds, as long as the employee "does not know who the paymasters are." OGE officials quickly changed their minds, but the document was never updated, as it wasn't needed during the relatively scandal-lite George W. Bush and Obama administrations.
Then–OGE director Walter Shaub anticipated the issue would come up for the incoming Clinton or Trump administrations, so he ordered a review. OGE didn't have time to complete it, but in May a statement was added to the top of the document noting that it was "not consistent with current OGE interpretation and practice." According to Shaub, following discussions with Trump White House attorneys, the note was changed again after he left the office over the summer. Now it says the guideline "has not changed" and decisions should be made on an individual basis.
"It's very depressing," Shaub said. "It's unseemly for the ethics office to be doing something sneaky like that."
The White House disputed Shaub's characterization, and said officials were talking with OGE because they wanted to make sure they were following the guidelines, not circumventing them.
The question of who pays White House staffers' exorbitant legal fees has been an issue in many previous administrations, and it has plagued the non-millionaires in the Trump White House as the Russia probe expands. Vanity Fair reported in June that top white-collar lawyers in D.C. charge around $750 to $1,000 an hour, which means a White House staffer could wind up owing $30,000 to $54,000, even if they're just interviewed by the FBI as a witness. White House aides have reportedly been hesitant to get involved in Russia-related matters for this reason, but incidents like Trump drafting a statement about his son's meeting with Russian officials while on Air Force One mean they'll probably wind up talking with special counsel Robert Mueller and his team.
The Daily Beast reported last week that efforts are under way to organize a legal defense fund for White House staffers. Hopefully lobbyists are feeling generous.