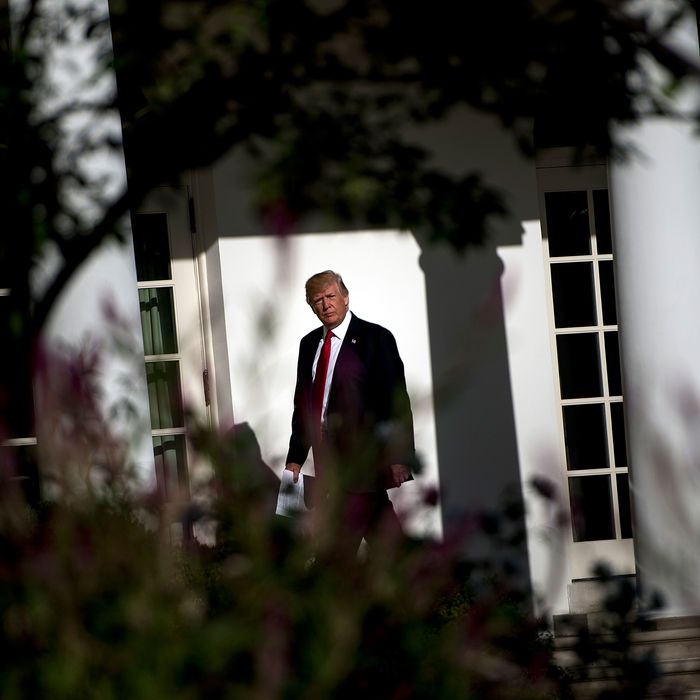 So Chuck and Nancy's new buddy is getting behind a GOP health-care bill that screws over their states egregiously.
Photo: Brendan Smialowski/AFP/Getty Images
To read a lot of media accounts over the last few weeks, you'd think Donald J. Trump had left the Republican Party. His "feud" with Mitch McConnell had turned toxic. He cut deals with Chuck Schumer and Nancy Pelosi, and preferred their company. The disdain for both parties that was at the heart of his original presidential campaign message — and that he's repeated on certain key occasions like his Inaugural Address — seemed to be the "real Trump" after all, whether you viewed that as a return to his roots or as the long-awaited "pivot" associated with the demands of the presidency.
Well, look at what Trump's now focused on for the remainder of September: putting his shoulder behind the wheel of a final congressional GOP attempt to repeal and replace Obamacare via a strictly partisan vote, and traveling to Alabama to save the bacon of Mitch McConnell's deeply endangered friend Luther Strange.
I doubt his new friends Chuck and Nancy are down with either of those projects.
Trump's investment in the Graham-Cassidy health-care bill is growing every minute. Aside from lobbying GOP senators publicly and privately, he's let his minions cooperate with Paul Ryan (you know, that other GOP leader he holds in minimum high regard) in destroying the bipartisan health-care-policy negotiations that Lamar Alexander and Patty Murray had been conducting in the Senate.
One of the bugs in Graham-Cassidy that a lot of conservatives consider a feature is that it includes a funding formula for a new block grant that egregiously screws over the godless liberal elitist states of New York and California — the states represented by Trump's buddies Chuck and Nancy.
Meanwhile, the president is personally putting his clout on the line in a state where he is adored by agreeing to a rally with Luther Strange in Huntsville on Friday. This is an act of unmistakable provocation insofar as he has chosen the hometown of defeated candidate Mo Brooks, who just endorsed Strange's runoff opponent Roy Moore, as the site of his Alabama intervention (Mike Pence will campaign for Big Luther in the state on Monday, just prior to the September 26 runoff balloting).
Political observers differ as to whether Strange, who has looked like a dead man walking during the entire special-election campaign, is salvageable. But there is little question that Big Luther's doom would be assured without Trump, despite his lavish backing from McConnell and the Alabama business community. And it's not like the president had to do any of this: Even after he tweeted an endorsement of Strange, he could have walked away as his close friends at Breitbart and former aides Stephen Bannon and Sebastian Gorka worked to take down McConnell a few notches by sending him the grim theocrat Moore as a new and abrasive member of his caucus.
So at the moment, in Washington and down in Alabama, Donald Trump is the Republican Establishment's best friend.  If he's "pivoting" away from the GOP or ushering in a new era of bipartisanship, he's got an odd way of showing it.