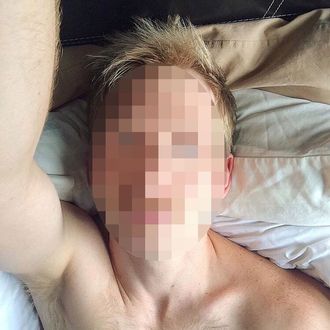 The last selfie Parks Denton tweeted before deleting his account.
Photo: Parks Denton/@ParksDenton/Twitter
If you've been anywhere near Gay Twitter™ today, you might have heard the name Parks Denton being murmured. If you've been to the heart of Gay Twitter™, you've heard the name shouted, chanted, and sung in three-part harmony. Parks Denton. Parks Denton! PARKS DENTON! The person who catfished the gays of Twitter and almost, almost got away with it.
If you're still asking yourself, "Whomst?" here's the short of it. Several years back, a guy going by Parks Denton joined the platform and embedded himself within Gay Twitter™, the loose network of gay men on Twitter. He faved. He retweeted. He acquired 2,500 followers. He slid into DMs to discuss drama. And he also slid into DMs for, well, exactly what sliding into DMs was invented for. Put another way, this guy wasn't just a ship passing through Gay Twitter™ in the night: His account was known by people in the know.
It helped that Denton appeared to be cute. He's deleted his Twitter account, but cached versions of his profile show off pictures of a white man with blue eyes, reddish-blond hair, and varying degrees of facial hair. They look to all be the same guy — the same guy who also appeared in a shirtless bed selfie Denton posted a few days ago.
That guy, though? Is not "Parks Denton." Neither is the "dark-haired" "half-Asian" guy who appeared in older photos on "Parks Denton's" account. That's because "Parks Denton" doesn't exist.
Select All talked to one of Denton's victims, Alex, who was supposed to meet Denton for drinks at a New York bar in August. Denton, obviously, never showed. Alex said he thought Denton was cute and DM'd him after "flirty Twitter interactions." "We started talking, very basic conversations. I didn't think anything of it. I've met probably 200 people, at least, through Twitter," Alex said. "It wasn't sketchy. We didn't exchange photos. Nothing like that." Sometime between their first DM and meeting IRL, Alex noticed that Denton had changed his profile picture. "My recollection is that he was dark-haired; he had an ear piercing, chest hair … to me, he looked half-Asian … he looked different. I thought he was handsome," Alex explained. "At some point the week we were going to have a drink, his photo changed to the one you can see now with the blue eyes and the hat."
When he asked Denton about the new photo, Denton said it was just a "really good photo" a friend had recently taken of him in the park. (Editor's note: Alex would like to go on the record and emphasize that the guy he fell for looked very different from the more recent photos of Denton. "I would not have messaged him, that whole blond, skinny thing is not my jam.") Still, the two planned to meet for a drink. Denton texted the day of their plans and asked to push the drink back by a day. Alex agreed, but wound up drinking a beer by himself the next night. "I even posted a tweet that night that was like, 'I think I was catfished,'" he said. "The whole thing was so weird for me because our messages weren't sexual in any shape or form; it was just a friendly drink."
Alex would turn out to be right. Last night, a group of Twitter users confronted Denton, who was apparently using photos of their friend, a real person who is very much not Parks Denton. "I do know the real person in the photos. He was my roommate when I lived in Brooklyn … and he is not Parks Denton," Dara, one of his friends, told Select All. It seems that if you're going to successfully catfish people, you might want to avoid stealing your photos from someone who people on Twitter might recognize.
Sarah, the best friend of the "real" "Parks Denton" (that is, the guy in the photos) tweeted several now-deleted photos of her and "real" "Denton." She told Select All that the photos Denton used were stolen from Instagram. She also tracked him down on LinkedIn. "The Twitter account listed his past two places of work, so I just did a quick search on LinkedIn and found him," Sarah told Select All. "We had mutual connections in the recruiting and advertising space, so I figured it was somewhat legitimate."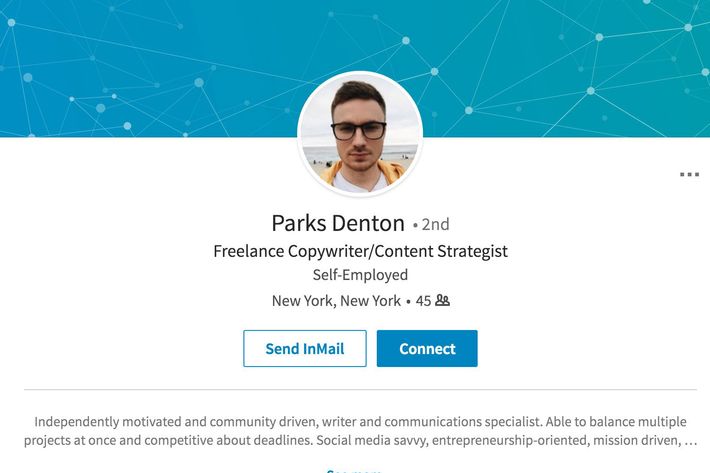 Sarah said after she messaged Denton on LinkedIn about stealing her friend's photos, the account was deleted.
While the world may never know for sure just who was behind Parks Denton — and who, if you sent him nudes, now has your nudes — the whole thing has been very good Twitter on an otherwise downer of a Wednesday.
Our sincerest apologies to whomever is running social for the Parks Department in Denton, Texas, today.
Additional reporting by E. Alex Jung.