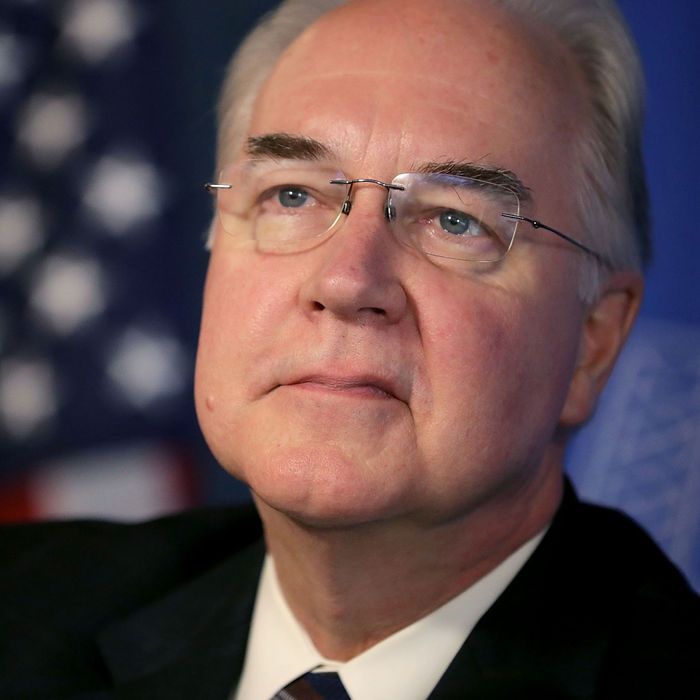 The suddenly disgraced Tom Price left no obvious successor at HHS.
Photo: Chip Somodevilla/Getty Images
The sudden resignation of Health and Human Services Secretary Tom Price is already leading to speculation about his successor in this very public job. According to the usually well-connected Axios, there are three front-runners for the gig:
Speculation about who would succeed Price permanently has focused on Seema Verma, who oversees Medicare, Medicaid and parts of the ACA. She's a close ally of Vice President Pence. Former Louisiana Gov. Bobby Jindal and Food and Drug Administration commissioner Scott Gottlieb are also seen as potential candidates.
Scott Gottlieb would in some respects be the easy replacement. He's a physician, like Price, and like Price has already been through a relatively contentious confirmation. But rightly or wrongly, he bears the sins of the pharmaceutical industry, to which he has had a long relationship as a consultant. In the broader HHS job that oversees health-care policy, that might be fatally narrow.
If Axios is correct, that leaves two fascinating candidates in line to succeed Tom Price.
Verma is in the classic position of the regulator who exerts enormous power without the kind of visibility that led Price to roam around the world at excessive public expense. She made a lot of money as a consultant helping conservative states cut deals with the Obama administration exchanging conservative policy fetishes for expanded Medicaid coverage, negotiating, most notably, the Indiana compromise that now–Vice-President Mike Pence embraced. At HHS, she has mostly concentrated on convincing Republican state officials and members of Congress that this or that GOP health-care proposal would move health-care policy in a conservative direction without vastly reducing eligibility for coverage.
More important, the Trump administration and congressional Republicans might decide Seema Verma is too valuable exactly where she is.
As for Bobby Jindal — well, on paper he is perfect for the next HHS secretary. He was, after all, assistant secretary of HHS back in 2001, after running Louisiana's Medicaid program (and a portion of the state's university system). He then spent some time in the U.S. House before becoming a two-term governor of Louisiana.
Bobby's problem (other than leaving his gubernatorial office as a Chris Christie–level pariah) is that he ran for president in 2016, and in an effort to separate himself from other conservatives, he said some things about the 45th president that will be forever problematic:
[T]he governor bashed Trump for being an "egomaniacal madman" and jabbed at him for declining to name a favorite Bible verse in an August interview after saying it was his favorite book.




"You may have recently seen that after Trump said the Bible is his favorite book, he couldn't name a single Bible verse or passage that meant something to him," Jindal said. "And we all know why, because it's all just a show, and he hasn't ever read the Bible. But you know why he hasn't read the Bible? Because he's not in it."
He was just getting warmed up. He called Trump a "nonserious carnival act," a "very weak and small person," an "unserious and unstable narcissist," and someone who "could destroy America's chance to be Great Again."
That's not what you want on your Trump-administration background report. Jindal eventually crawled back to the GOP column before the general election, but it's not clear it was enough to merit a cabinet post.
So Gottlieb and Verma may be too valuable where they are, and Jindal may be too toxic to bring aboard. The suddenness of Price's disgrace and dismissal was a bad thing for Team Trump. There's now talk of Rick Santorum at HHS. That would provide a really interesting confirmation hearing.