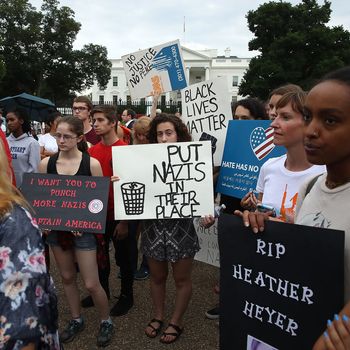 People protest racism in front of the White House on August 14, 2017.
Photo: Mark Wilson/Getty Images
After the violent white-nationalist rally in Charlottesville, Virginia, last month, many Republican lawmakers condemned white supremacists and neo-Nazi groups, but they stopped short of criticizing President Trump by name when he failed to do the same.
President Trump dragged out the controversy, reading a statement criticizing the "KKK, neo-Nazis, white supremacists and other hate groups," then spending the next few days making it clear he resented being forced to do so. The next day, he declared in an erratic press conference that there were some "very fine people" among the crowd chanting "Jews will not replace us," and at a rally a week later he cast himself as the victim of dishonest journalists.
House Democrats responded by introducing a resolution to censure Trump, and many supported the move. "This is a moment of reckoning for members of the Party of Lincoln: Do they want to stand up for American values, or do they want to keep enabling a president whose understanding of right and wrong has slipped dangerously off the rails?" wrote USA Today's editorial board.
However, House Speaker Paul Ryan made it clear that he considered censure too extreme, though it's just an official rebuke from Congress with no real consequences. During a CNN town hall Ryan said Trump "messed up," but censuring him would "descend this issue into some partisan hack-fest." He did not explain why he assumed Republicans wouldn't get behind formally criticizing Trump's Charlottesville response.
Now, three weeks later, Congress has unanimously passed a resolution that condemns white supremacy and calls on the Trump administration to do more. The measure, which passed in the Senate on Monday and in the House on Tuesday, was purposely introduced as a joint resolution, which requires the president's signature, rather than a concurrent resolution, which does not.
But lest anyone think that this is a bold stand against Trump by congressional Republicans, the Washington Post reports that House Republicans objected to Democratic language that would have criticized the president's response.
[Democratic Representative Gerald] Connolly suggested adding that [Heather] Heyer was "a victim of domestic terrorism" who lost her life while "protesting against hate groups," according to language reviewed by The Post. He also proposed noting that Trump "failed to condemn white supremacists and erroneously blamed 'both sides' for the violence."




That was a deal-breaker for Republicans, and negotiations fell apart only to be revived last week when [Senator Mark Warner and Tim Kaine] offered their own resolution with bipartisan support.
The final version calls the killing of Heyer a "domestic terrorist attack," and says that on August 11 "hundreds of torch-bearing White nationalists, White supremacists, Klansmen, and neo-Nazis chanted racist, anti-Semitic, and anti-immigrant slogans and violently engaged with counter-demonstrators." (Draft language that criticized violent "counterprotesters" more explicitly, and condemned "intimidation, and violence by all groups — regardless of their political affiliation or political motivation" does not appear in the resolution.)
The legislation goes on to say that Congress "rejects White nationalism, White supremacy, and neo-Nazism as hateful expressions of intolerance that are contradictory to the values that define the people of the United States." There's no mention of Trump's response, but it urges the president and his administration to "speak out against hate groups that espouse racism, extremism, xenophobia, anti-Semitism, and White supremacy," and use all of his available resources to "address the growing prevalence of those hate groups in the United States."
It also calls on Attorney General Jeff Sessions to work with other federal officials to thoroughly investigate acts of violence and intimidation committed by white-supremacist groups, and to "improve the reporting of hate crimes" and the federal collection of data on such incidents. (Many federal agencies fail to report hate crimes to the FBI's national database, and the Trump administration recently cut federal funding for several groups fighting right-wing violence.)
On Tuesday night, Democratic senator Mark Warner urged President Trump to sign the joint resolution:
The White House would not immediately commit to signing it:
It's hard to see why Trump wouldn't sign, since the resolution doesn't explicitly condemn his previous remarks or require his administration to take action. But as we learned last month, the president's immediate and unequivocal condemnation of racist groups is no longer a given.