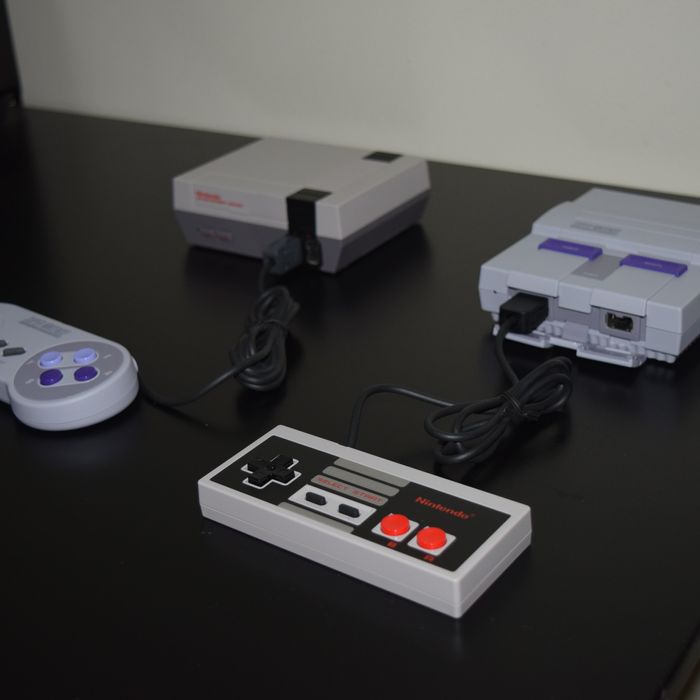 "Do you think that God stays in heaven because he, too, lives in fear of what he has created?" — Steve Buscemi,
Spy Kids 2
Photo: Brian Feldman
Tomorrow marks the release of the SNES Classic, the hot new holiday item from Nintendo that you will not be able to find on store shelves until after Christmas. It's got 21 games on it, wow! It's very cute.
But unknown questions linger. At the top of everyone's list, of course, is whether or not you can use a controller from the NES Classic on the SNES Classic and vice versa. Both gizmos use the same console port, meaning that you can plug one's controllers into the other. But do they send the right signal?
Now, thanks to unholy experiments that neither God nor the Devil would ever condone, Select All can confirm that yes, you can use the SNES controller on the NES classic and vice versa.
Here's the NES controller on the SNES…
… and the SNES controller on the NES.
Obviously there are some issues here. The SNES has X and Y buttons that the NES doesn't have — any games requiring the X and Y buttons will have … significant problems. However, if you bought a third-party retro controller with four face buttons, such as 8bitdo's, you should be fine. In tests, when a SNES controller was plugged into the NES, the Y button doubled as the A button and the X button doubled as the B button.