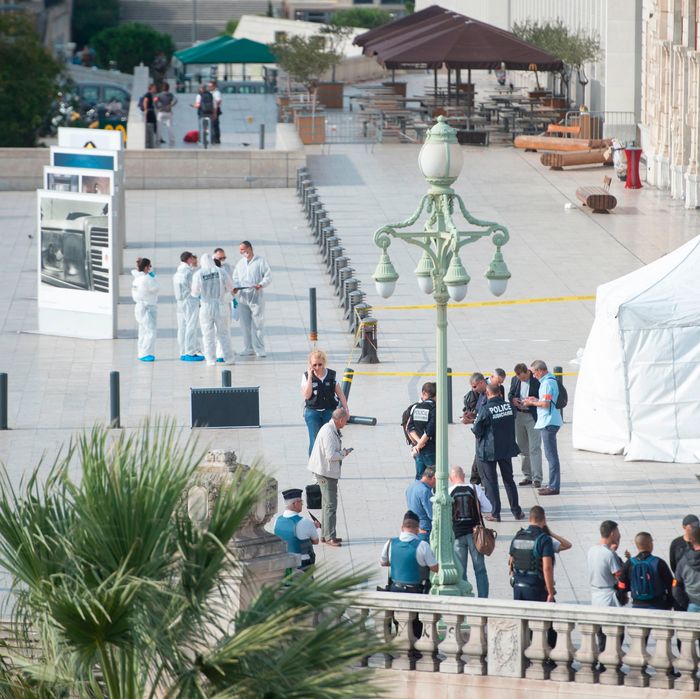 The scene in Marseille on Sunday.
Photo: Bertrand Langlois/Getty
A man stabbed at least two people to death on Sunday at a train station in Marseille, France's second-largest city. The perpetrator was shot dead by police who had been patrolling the area, a local prosecutor told Agence France-Presse.
Three police sources told Reuters that the attacker had shouted "Allahu Akbar" as he carried out the killings, and police were treating the incident as a "likely terrorist act." One source said that the attacker appeared to be about 30 years old, of North African descent, and was not carrying any identification papers.
The two victims, both women, were 17 and 20 years old. One victim's throat was slit, and the other was stabbed in the stomach.
France has been the Western country hardest hit by Islamic terror attacks in recent years. In 2015, gunmen murdered 12 people in an attack on the satirical magazine Charlie Hebdo. Later that year, terrorists carried out a coordinated attack in Paris that killed 130. And in 2016, a driver rammed a truck through crowds in Nice on Bastille Day, killing 86. There have been many smaller-scale incidents as well. A total of 239 people have been killed in the various attacks, according to an AFP count before Sunday's incident.
The country has been in an official state of emergency since the Paris attack. Lawmakers are expected to vote on Tuesday to decide whether to make some of the emergency provisions permanent, to the consternation of civil-liberties advocates.