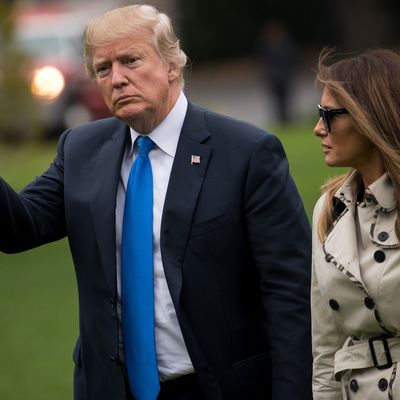 The decider, sort of.
Photo: Drew Angerer/Getty Images
President Trump's decision to end key cost-sharing reduction payments to health-insurance companies — which could throw Obamacare's individual markets into turmoil — will probably not be the last word on the matter.
On Friday, 19 attorneys general, representing 18 states and Washington D.C., filed a lawsuit against Trump in the U.S. District Court for the Northern District of California, arguing that his refusal to carry out statutes of the Affordable Care Act is illegal, and asking the court to issue an injunction preventing the administration from cutting off the payments, also known as CSRs.
"By refusing to make the CSR reimbursement payments mandated by the ACA and its permanent appropriation … the President and the Secretaries are deliberately seeking to undermine, rather than faithfully execute, the ACA," the suit says.
CSRs are payments made by the federal government — about $7 billion last year — to help compensate insurance companies for providing insurance to low-income Americans. They have long been a bone of contention in the never-ending partisan fight over Obamacare.
For years, Republicans have argued that Congress never properly authorized the payments when it passed the Affordable Care Act in 2010, because it did not appropriate specific funds for them. The GOP-led House filed a lawsuit to that effect in 2014, and last year, U.S. District Court Judge Rosemary Collyer ruled in agreement, declaring the payments illegal but keeping them flowing pending an Obama administration appeal. In August, with the administration out of power, the U.S. Court of Appeals for the District of Columbia Circuit ruled that Democratic attorneys general could instead defend the subsidies in court. New York attorney general Eric Schneiderman has indicated that he will continue to pursue that litigation, but that Friday's filing, seeking the injunction, will take precedence. Given that Collyer's punitive ruling came as a surprise to many legal observers, it's likely that other judges will disagree with her interpretation of the law.
Insurers could also sue the government to get their money, a legal route that appears to carry a high chance of success. As Slate's Mark Joseph Stern explains, the government maintains a permanent appropriation called the Judgment Fund, which covers miscellaneous payments that have not been issued. When insurers have previously taken Republicans to the Court of Federal Claims over a different section of the Affordable Care Act — this one involving "risk corridor" payments — they've won repeatedly, receiving their money through the Judgment Fund.
Stern cites University of Michigan law professor Nicolas Bagley, who has written that, in the event of an insurance-company lawsuit over CSRs, "The question is thus not whether the government will pay, but when."
There is a way to avoid all this legal wrangling: Congress could simply step in and authorize the payments. Senators Patty Murray and Lamar Alexander have been working, slowly, on bipartisan legislation to do just that, but it's far from clear whether enough Republicans would sign onto it, even if they extract concessions from Democrats in order to keep the money flowing.
Still, there's a fairly good chance that through one avenue or another, insurers will not ultimately be left out in the cold.
Pulling the plug on CSRs was Trump's second major act of Affordable Care Act sabotage this week. Also on Thursday, he signed an executive order opening the door to allowing bare-bones insurance plans that would circumvent the basic protections codified by Obamacare. That move will not have the same immediate effect as the CSR cutoffs, but is certain to draw its own legal challenges down the road.