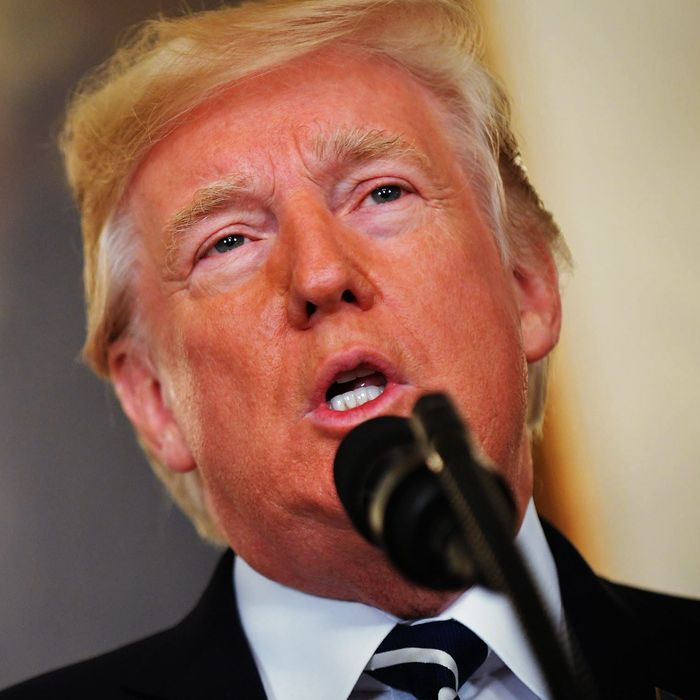 Trump.
Photo: Mandel Ngan/AFP/Getty Images
Donald Trump has shown little compunction about drawing policy conclusions from acts of mass violence before all the facts are in. Just last month, the president announced that London had suffered a terrorist attack before British authorities had made any such determination — and called for sweeping travel restrictions to protect Americans from similar acts of violence, even as the identity (and thus, nationality) of the British bombing suspect had yet to be disclosed.
But on Monday morning, in remarks addressing last night's historically deadly mass shooting in Las Vegas, Trump declined to name any policy implications that the bloodshed might have. Instead, the president decried the mass murder as an "act of pure evil"; praised the courage of Las Vegas's first responders; offered the shooting victims his condolences and spiritual guidance; and called for national unity.
"To the families of the victims: We are praying for you and we are here for you, and we ask God to help see you through this very dark period," the president said. "Scripture teaches us, 'The Lord is close to the brokenhearted and saves those who are crushed in spirit.'"
On Sunday night, a white 64-year-old named Stephen Paddock brought an automatic weapon to the 32nd floor of the Mandalay Bay hotel, and opened fire on a crowd of 22,000 people attending an outdoor concert below, according to authorities. The gunfire killed 58 people and wounded over 500, making the incident the deadliest shooting in U.S. history (the second-deadliest came at the Pulse nightclub in Orlando last year).
ISIS claimed responsibility for the attack Monday morning, but local and federal authorities have dismissed that claim. Sheriff Joseph Lombardo, of the Las Vegas Metropolitan Police Department, told reporters Monday that "at this point," the shooting did not appear to be an act of terrorism, but rather, the work of a "lone wolf" who "resides here locally."
"In times such as these, I know we are searching for some kind of meaning in the chaos, some kind of light in the darkness. The answers do not come easy," the president said in his remarks. When he attempted to posit one answer, a moment later, Trump opted to search for meaning in the metaphysical realm, rather than the political one, saying, "We can take solace knowing that even the darkest space can be brightened by a single light, and even the most terrible despair can be illuminated by a single ray of hope."