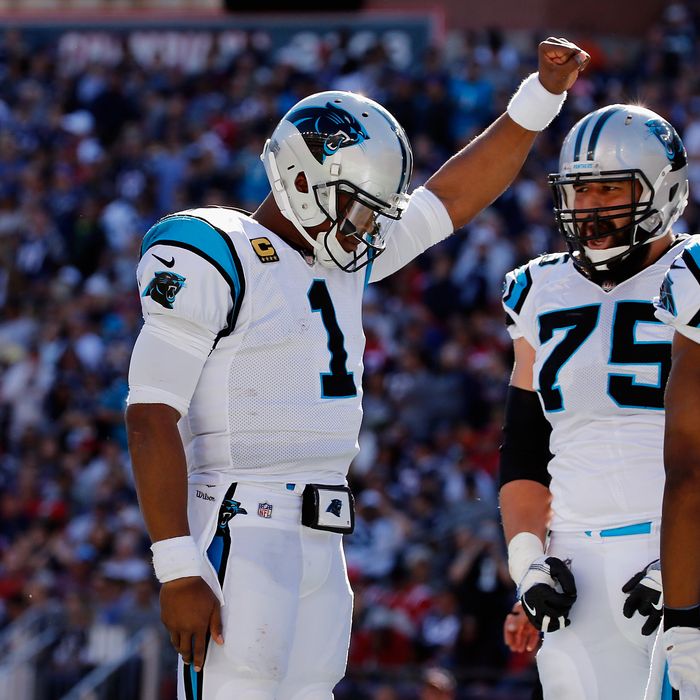 Cam Newton of the Carolina Panthers raises his fist in the end zone after scoring a touchdown on October 1, 2017.
Photo: Jim Rogash/Getty Images
President Trump is not one to let a controversy fade away, so on Saturday he made sure to fan the embers of his standoff with the NFL, which began when he suggested players should be fired for protesting during the national anthem on September 22.
However, Trump was clearly more invested in his new beef with the mayor of storm-ravaged San Juan; over the weekend, he posted more than a dozen tweets defending his administration's response to Hurricane Maria.
The NFL scaled back its response as well. A few teams — including the Baltimore Ravens, the Pittsburgh Steelers, the New Orleans Saints, and the Jacksonville Jaguars — took a knee as a team before the anthem, then stood for the song. Jacksonville players announced before the game that they would would kneel in prayer "for change, progress and equality for everyone who calls the United States their homes."
Most other teams stood for the anthem, often making some gesture of "unity" — the vague sentiment many in the NFL rallied around in recent days. For instance, while 17 Patriots players took a knee last weekend, this week every player stood, with his right hand on his heart and his left on his teammate's shoulder.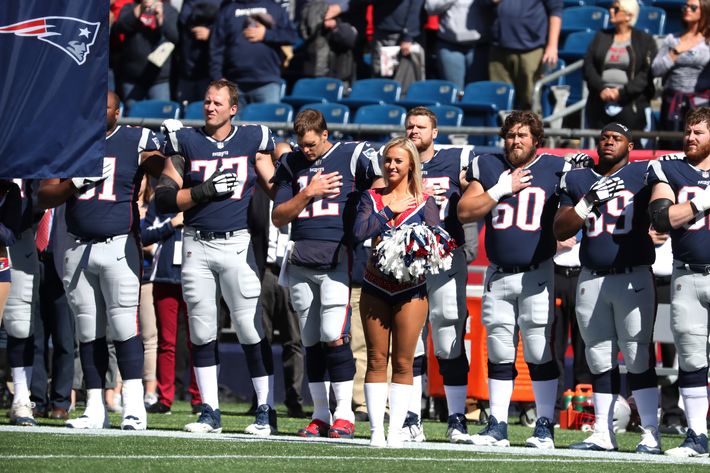 But a number of players chose to make individual gestures. Marshawn Lynch entered the stadium wearing an anti-Trump shirt, then continued his practice of sitting during the anthem (though Oakland Raiders staff stood around him, so he probably wasn't visible in the stadium).
Many other players stood with their team during the anthem, but raised a fist in protest, including the Philadelphia Eagles' Malcolm Jenkins and Rodney McLeod; the Tennessee Titans' Jurrell Casey, Wesley Woodyard, Brian Orakpo, and DaQuan Jones; and the Cleveland Browns' Christian Kirksey, Jason McCourty, Randall Telfer, Isaiah Crowell, Briean Boddy-Calhoun, Larry Ogunjobi, Kenny Britt, Dominique Alexander, and Ibraheim Campbell. Carolina Panthers quarterback Cam Newton did not make any gesture of protest during the anthem, but following a touchdown in the fourth quarter, he raised a fist in the air.
"It was to signify black power," Newton explained after the game, "but more important, I pray every night for God to give me a pinnacle to give people hope."
"I thought it was cool," said his teammate Julius Peppers. "We wanted to take this out of the national anthem because that's obviously a little contentious. Cam did it on his own time — that's what everybody wants, right?"
A handful of players chose to mimic former San Francisco 49ers quarterback Colin Kaepernick's original protest against police brutality, taking a knee even as most of their teammates stood for the anthem. Those players include the Buffalo Bills' Kaelin Clay, Cedric Thornton, Mike Tolbert, Shareece Wright, Taiwan Jones, and Jerel Worthy; the Miami Dolphins' Kenny Stills, Michael Thomas and Julius Thomas; and the Detroit Lions' Jalen Reeves-Maybin and Steve Longa.
The strongest protest came from the 49ers, who hadn't played since Trump indirectly attacked their former teammate. About 30 players and coaches on the 49ers took a knee during the anthem, while their teammates stood behind them.
With the meaning of various on-field demonstrations becoming muddled in recent days, the Seattle Seahawks tried a different response to Trump (though nine players still sat during the anthem on Sunday). On Friday, they launched a charity, the Seahawks Players Equality & Justice for All Action Fund, which will support education and leadership programs promoting social justice.
"Our team wanted to do something that made a difference, we wanted to make a tangible difference," said cornerback Richard Sherman. "Enough words have been said, enough actions have been shown, and we want to go out there and help as many people as we can who have been affected by divisiveness and inequality."