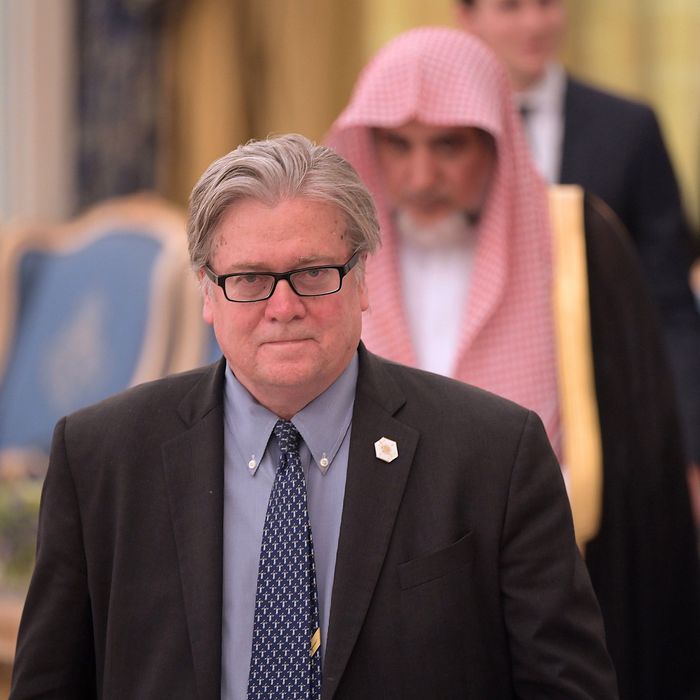 Wahaabist cuck?
Photo: Mandel Ngan/AFP/Getty Images
Steve Bannon is delivering a wake-up call to the rootless cosmopolitans of the Trump administration: The forgotten men and women of the Saudi royal family must be forgotten no longer.
The former White House strategist hasn't been shy about confronting his old colleagues when their globalist instincts lead them astray. From his soapbox at Breitbart, Bannon has implored the president to honor the demands of his working-class base: America-first trade agreements to restore our nation's industrial base; a border wall to protect Americans' wages, culture, and security; and a blockade of Qatar to prevent Al Jazeera from promoting thought crimes against the House of Saud.
According to Riyadh, the Saudi and UAE governments have blocked resources from entering Qatar by air, land, and sea because they are outraged by the Qataris' role in funding Islamist terror groups. According to virtually every expert on the Middle East, this is a laughable conceit. The Saudis are every bit as complicit in funding international terrorism as Qatar is, and the kingdom's real concern is Doha's friendly relations with Iran, support for journalism critical of Riyadh, and broader refusal to comport itself as the Saudis' vassal state.
Donald Trump initially took the Saudis' side, ostensibly because he was eager to claim credit for the Gulf States finally getting tough on terrorism. But his administration desperately sought to end the blockade and normalize relations between America's Gulf allies. The United States has little use for a conflict between Riyadh and Doha — not least because Qatar hosts one of America's largest air bases in the Middle East. In recent weeks, Trump has softened his rhetoric toward Qatar and called for a speedy resolution of the conflict.
But on Monday night, at the Hudson Institute think tank in D.C., Bannon gave voice to the Republican base's passionate support for Saudi hegemony.
"The original 12 demands that were put out … I think these demands are, quite frankly, pretty straightforward," Bannon said of the Saudis' ransom, according to BuzzFeed News. "I think the single most important thing that's happening in the world is the situation in Qatar … Qatar finally had to be called to account for their continual funding of the Muslim Brotherhood, their continual funding of Hamas."
If you're skeptical that Brietbart's attention to this issue is driven by overwhelming reader interest — or that Bannon's passion on the subject reflects that of Trump's nationalist base — there is an alternative explanation for both. As McClatchy reports:
The UAE is paying $330,000 to a firm with the same parent company as Cambridge Analytica, the business Trump employed to reach voters with hyper-targeted online messaging during the campaign, to blast Qatar on Facebook and Twitter, among other sites, according to federal records.




… Bannon, who served as White House chief strategist until August, retained an ownership stake in Cambridge Analytica worth $1 million to $5 million when he entered the White House, according to his financial disclosure report.
So: Billionaire Robert Mercer owns SCL Social Limited, a company that just took $330,000 to wage an anti-Qatar influence campaign. Mercer also bankrolls nearly every venture that Steve Bannon draws paychecks from. Now, Bannon is undermining America's access to a critical air base, by parroting the talking points of a totalitarian, Islamist state with ties to 9/11.
It's enough to make you wonder whether Bannon — a former Goldman Sachs banker and Hollywood money-man — might be a profit-seeking self-promoter first, and a right-wing nationalist second.