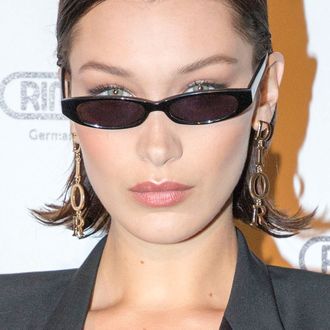 Bella Hadid.
Photo: Bertrand Rindoff Petroff/Getty Images
While you were maybe off celebrating the long weekend, Twitter was still putting in the work, making meme lemonade out of meme lemons.
Last week, Bella Hadid was a guest on Sneaker Shopping, a Complex series in which famous people buy expensive sneakers. On the show, Hadid spoke about footwear as though she'd learned all of her vocabulary from a 1950s Christian magazine about the dangers of youth culture. A clip of the video quickly went viral.
Though the whole video is, to quote Hadid, dope, the specific part that went viral is this:
If homeboy's coming through with these? It's quiet, yeah, no; it's quiet for him. But, like, if he comes through in, like, theeeeeese … homeboy's gonna, like, get iiiit.
This is not the first time that shoes have been roasted online, nor is it the first time that a Hadid sister was the butt of a joke. Regardless, great meme, everybody! Thank you for your service. Thank you for putting in the work and dedication to really help this meme reach the next level.