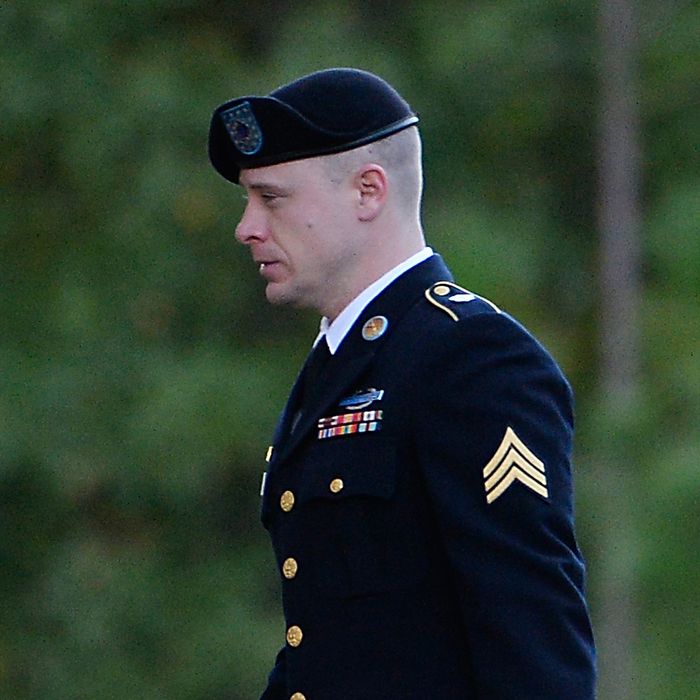 Sergeant Bowe Bergdahl is escorted into the Fort Bragg military courthouse on October 30, 2017.
Photo: Sara D. Davis/Getty Images
Sergeant Bowe Bergdahl, who spent five years as a captive of the Taliban in Afghanistan, offered emotional testimony at his sentencing hearing on Monday, apologizing to service members who were wounded while searching for him.
"It was never my intention for anyone to be hurt, and I never expected that to happen," he said during the hearing in Fort Bragg, North Carolina. "I grieve for those who suffered and their families … I was trying to help, and knowing that I did not breaks my heart."
Bergdahl has said he left his post on June 29, 2009, with the intention of walking to a larger base 18 miles away to report what he saw as a problem with the leadership of his unit. He was quickly captured and brutally tortured for years until President Obama traded five Guantánamo Bay detainees for his release in 2014. Earlier this month, he pleaded guilty to desertion and misbehavior before the enemy.
After apologizing, Bergdahl described the torture he endured while clenching his hands at his sides and rocking back and forth. He said he was beaten with copper wire, and kept in a cage with a metal bar at the bottom that made it impossible to get comfortable. He went months without cleaning himself, and developed sores from his shackles.
Bergdahl said the worst part was the psychological torture. His captors showed him videos of executions, and regularly threatened to kill him.
"The worst was the constant deterioration of everything, pain from my body falling apart, internal screams from my mind, the darkness and light," he said. "I was wondering if every time the door opened it would be the person coming to execute you."
Monday's hearing also featured testimony from Shannon Allen, the wife of Master Sergeant Mark Allen, who was shot in the head while searching for Bergdahl. He is paralyzed, in constant pain, and requires constant care.
"He is present, makes eye contact," she said. "He can laugh, smile, cry. That is the extent of the communication."
Bergdahl faces a maximum penalty of five years in prison for desertion, and life in prison for misbehavior before the enemy. The judge, Colonel Jeffery Nance of the Army, denied a request to dismiss the case or cap Bergdahl's sentence on the grounds that President Trump's repeated attacks — such as saying Bergdahl is a traitor who "should be shot" — prevented him from receiving a fair hearing. However, Nance said on Monday, "I will consider the president's comments as mitigation evidence as I arrive at an appropriate sentence." He's expected to sentence Bergdahl in the next few weeks.