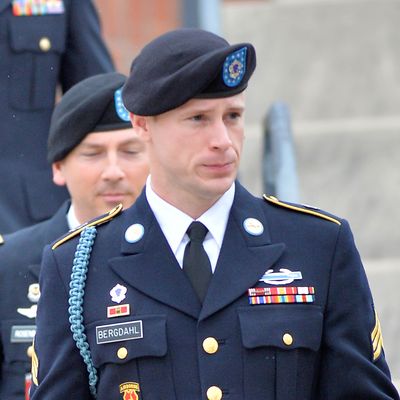 Bergdahl.
Photo: Sara D. Davis/Getty Images
Bowe Bergdahl, who left his military post in Afghanistan in 2009 after becoming disillusioned with the American campaign there, and was then captured and held captive by the Taliban for years, is expected to plead guilty to charges of desertion before the enemy and misbehavior, the Associated Press reported on Friday.
The guilty plea means that Bergdahl, 31, will avoid a trial that had been scheduled to begin before a military judge later this month.
Sentencing will begin on October 23. Bergdahl faces up to five years for the desertion charge, and possible life imprisonment for misbehavior — a charge that since World War II has rarely been brought.
Bergdahl wandered away from his post near the Pakistan border in June 2009 and was captured by the Haqqani Network, a Taliban-aligned insurgent group, which held him captive for almost five years in what he described as brutal conditions. His fellow soldiers, meanwhile, mounted a dangerous, long-running effort to find him.
After years of surreptitious negotations, President Obama announced at a Rose Garden ceremony in May 2014 that he had obtained Bergdahl's release in exchange for five Taliban prisoners being held at Guantánamo Bay. As the scope of Bergdahl's story became clear, many labeled him a traitor.
This label was adopted by Donald Trump, who repeatedly attacked Bergdahl on the campaign trail in 2015 and 2016, asserting that he "should have been executed." Defense attorneys argued, unsuccessfully, that such comments unduly prejudiced the outcome of the case.
The presiding judge, Army Colonel Jeffrey R. Nance, also ruled that soldiers who had been injured looking for Bergdahl would be allowed to testify against him, which may have made the prospect of a trial — even one that didn't involve a jury — more unattractive.