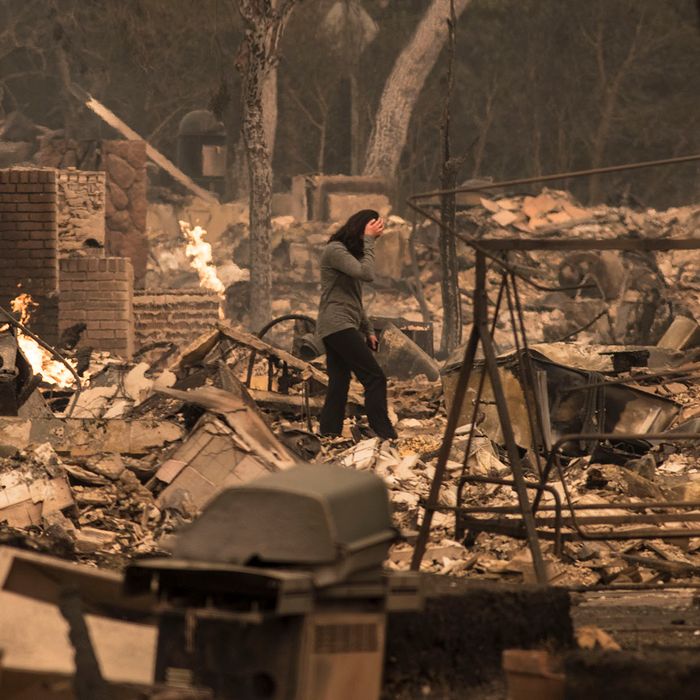 A homeowner in Santa Rosa, California, walks through the rubble of a home she and her husband have owned for four years on October 9, 2017.
Photo: Brian van der Brug/LA Times via Getty Images
Wildfires are sweeping across California wine country, killing at least 17 people and sending hundreds to the hospital. More than 20,000 people were forced to evacuate, and more than 2,000 buildings have been destroyed. The blaze has turned more than 115,000 acres to rubble and ash.
The West Coast was already experiencing a severe fire season, and there are now at least 17 fires burning in Northern California. The cause of the fires, the first of which started around 10 p.m. on Sunday, is still under investigation, but they are spreading due to a weather phenomenon known as "Diablo winds," named after the Bay Area's Mt. Diablo. As Quartz explains:
These winds are created because of high inland pressure, which pushes air down the sides of mountains. The winds warm up and dry out as they travel downward. Late Sunday night (Oct. 8), these winds reached hurricane levels, traveling at 70 mph (110 km/h). 
Evacuations began late on Sunday night and continued throughout the day on Monday. People fled their homes on foot and by car, some with nothing but the clothes on their backs. "We always thought the alert system would give us time, but there was no notice, no warning," Maureen Grinnell, 77, who lived in the hills north of Napa, told the New York Times. "I was watching a movie with my 19-year-old granddaughter and I smelled smoke, and I looked out the window to see flames approaching."
Within ten minutes, the flames had reached her house. "By the time I started to back the car out of the garage, the house was already on fire," Grinnell said. "I drove down the road through smoke with flames on both sides. It almost looked like the burning of Atlanta in Gone With the Wind."
Flames shut down a number of roadways, including a 90-mile stretch of U.S. 101, Highway 12, which winds through the wine country. Damage to the state's wine industry, which generates more than $50 billion annually, could be serious.
"It looks like a bombing run," said Joe Nielsen, the winemaker at Donelan Family Wines in Sonoma County. "Just chimneys and burned-out cars and cooked trees."
Santa Rosa, a suburb in Sonoma County, saw homes and businesses turned to piles of ash and debris. Some residents said they had minutes to abandon their homes; some are returning now to find those structures charred and hollowed out. "It looks like a bomb went off," a resident told the Times. The Veterans Memorial Building was turned into a shelter, and it was at capacity with 400 residents.
The Tubbs Fire, which leveled Santa Rosa and other parts of Sonoma, is the largest of the blazes in Northern California, now tearing across 27,000 acres. It is zero percent contained, but California Fire Assistant Deputy Director Daniel Berlant appeared hopeful that crews would make headway, as conditions slightly improved on Tuesday. "We're hoping to continue to see less wind and cooler temperatures," he said. "That combination is a welcome sight compared to what we dealt with just 24 hours ago."
The focus is also on preventing further loss of life. Sonoma County said its hotline had received about 200 missing-person reports, though they expect some are duplicates. The fires knocked out cellular service, making it harder for people to check on their loved ones, and preventing people from calling for help.
St. Joseph Health said it had treated around 170 people at its three hospitals in the region, mostly for smoke inhalation. About 130 patients were evacuated from the Santa Rosa Medical Center on Monday morning due to the fires, and other medical facilities were shut down due to road closures.
Still, officials warned that the death toll is likely to rise as crews take stock of the devastation. Among the dead are nine people in Sonoma County, one person in Yuba Country, three people in Mendocino County, and two people — a 100-year-old WWII veteran and his 98-year-old wife — in Napa County.
Officials are encouraging those who live near evacuated areas to pack "ready-to-go bags" in case the fires spread.
"I think it would be one of the worst disasters in California history," Captain Mike Palacio of the California Highway Patrol said at a community meeting. "You gotta be patient. We are just trying to keep people alive."
Governor Jerry Brown has declared a state of emergency for Butte, Lake, Mendocino, Napa, Nevada, Orange, Sonoma, and Yuba Counties. "This is really serious. It's moving fast," Brown said at a press conference on Monday. "The heat, the lack of humidity and the winds are all driving a very dangerous situation and making it worse," the governor said at a morning news conference. "It's not under control by any means. But we're on it in the best way we know how."
Brown had asked for federal assistance, and on Tuesday President Donald Trump approved a disaster declaration for the affected California counties, Vice-President Mike Pence announced. "Let me first say our hearts and the hearts of every American go out to the families of the 13 who've lost their lives," Pence said after stopping by California's emergency management center. "It's heartbreaking to think that many of the fallen represent our most vulnerable; in some cases senior citizens who simply were not able to escape the flames that overcame their homes," he said. "They are in our prayers."
As Northern California smolders, counties in the southern part of the state are also under evacuation orders as the 7,500-acre Canyon 2 Fire threatens Orange County. It is the largest wildfire in Orange County in more than a decade, according to the Orange County Register.
Approximately 1,100 firefighters are battling the blaze that destroyed at least 24 structures and prompted the evacuation of 5,000 homes in Orange County, including Anaheim Hills. The flames still threaten about 3,500 structures.
The Santa Ana winds combined with hot, dry conditions helped fuel the fire, which was only about 5 percent contained as of Tuesday. "Winds are looking a little bit better this morning," Orange County Fire Authority spokesman Larry Kurtz said. "We're hoping the winds treat us a little better today than they did yesterday."