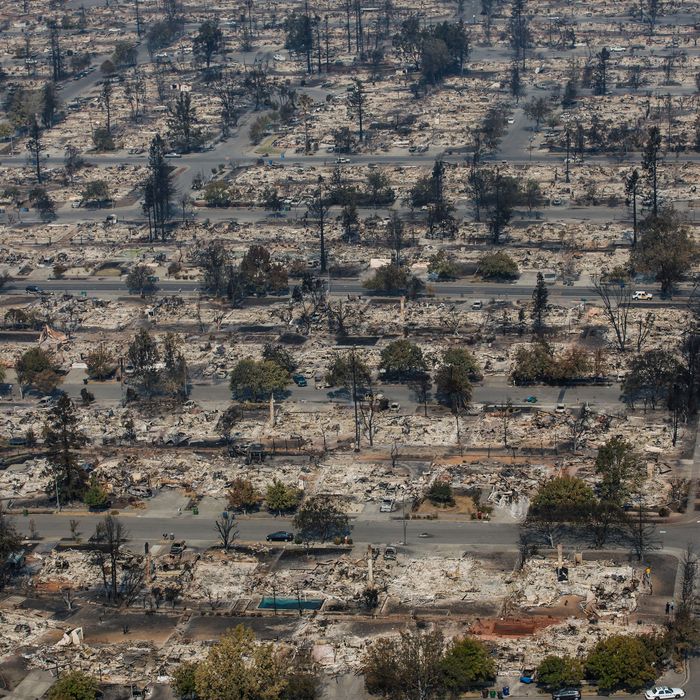 Aerial views of the damage caused by wildfires on October 11, 2017, in Santa Rosa, California.
Photo: Marcus Yam/LA Times via Getty Images
Wildfires raging in Northern California have killed at least 31 people, as firefighters struggle to beat back the flames that have incinerated suburbs and sent tens of thousands fleeing their homes. It is the deadliest wildfire in the state since 1933, reports the Washington Post.
"We've found bodies that were almost completely intact; we've found bodies that are nothing more than ashes and bones," Sonoma County Sheriff Robert Giordano told reporters Thursday, painting a grim picture of a disaster that is far from over.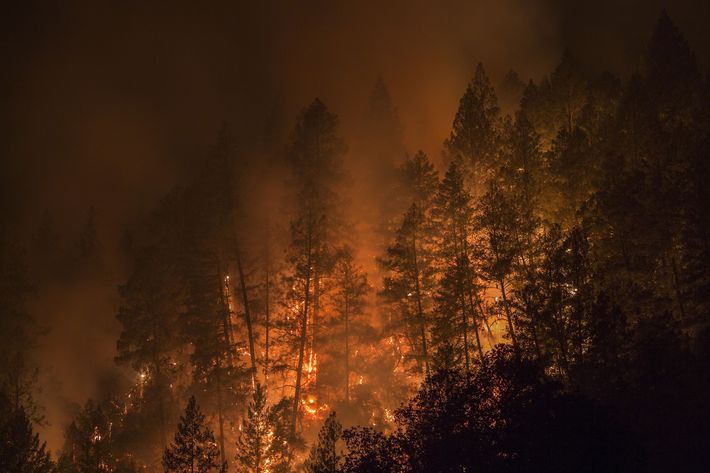 Officials in Sonoma County, which has suffered more than half of the fatalities so far, warned that the death toll was almost certain to rise. More than 1,000 people have been reported missing in Sonoma County, with 400 still unaccounted for as of Friday. The fires have knocked out at least 77 cell towers and power lines, making communication difficult in the region. It has also complicated the work of public officials; some residents have reported delays in getting public-safety alerts via text message.
Right now, more than 8,000 firefighters are working around the clock trying to battle 21 major wildfires in California wine country. Those infernos have engulfed more than 191,000 acres since Sunday and destroyed at least 3,500 structures. "These fires are literally just burning faster than firefighters can run," California's fire chief, Ken Pimlott, said.
On Friday, the National Weather Service again issued "red flag" warnings for the region, specifically the North and East Bay Hills and the Diablo range. Wind gusts could reach 60 miles per hour in Napa County, and combined with warm, dry conditions, will keep the valley a tinderbox. "It's just going to be all-around poor conditions for fire weather," Drew Peterson, a meteorologist with National Weather Service said. But, he added, conditions look to be improving into the weekend, and winds are expected to die down on Saturday.
Fire crews will need those improved conditions. Right now, the focus is on saving lives and evacuating residents, and, as a result, the largest fires are still burning large swaths of acreage. The Atlas Fire stretches more than 43,000 acres. It has scorched parts of Napa Country and is creeping toward Solano County. Officials have it at 7 percent contained, as of Friday morning. The deadly Tubbs Fire, which decimated parts of the Sonoma County suburb of Santa Rosa, is one of the largest, spanning more than 34,000 acres. As of Friday morning, it was 25 percent contained.
"We all have suffered a trauma here and we're going to be a long time in recovering from this incident," Santa Rosa mayor Chris Coursey told reporters Thursday. He said that more than 2,800 homes and more than 400,000 square feet of commercial space had been consumed by flames in his city.
An estimated 50,000 people fled their homes since Sunday, and those zones are widening as the fires rage on. Those tens of thousands remain displaced, crashing with relatives or waiting in public shelters, which have been overwhelmed. Nearly 4,000 people are at two shelters in Sonoma County, according to the Washington Post.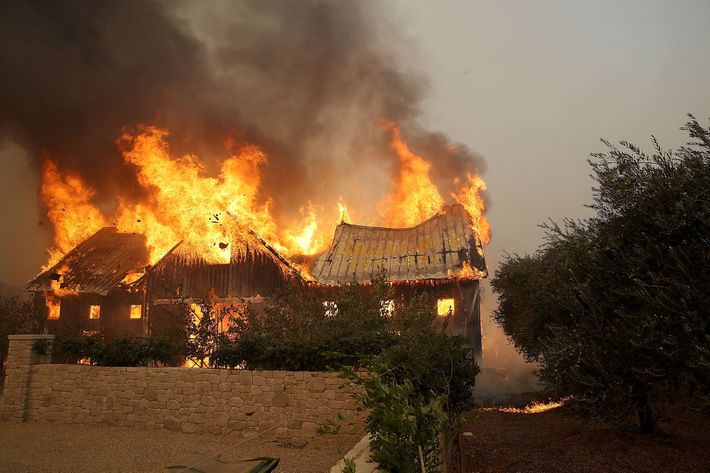 "This is a once-in-a-career fire," said Captain Greg McCollum, of the Santa Rosa Fire Department said. "One of the other guys said it's a once-in-two-careers fire. Well, I'm no historian, but I know a damn big fire when I see one."
The cause of the fire remains unknown, but officials are investigating the possibility that poorly maintained power lines might have sparked some of the blazes. The San Jose Mercury News reported that dispatchers in Sonoma County received multiple phone calls Sunday of downed power lies and exploding transformers. A spokeswoman for Pacific Gas and Electric Company, the utility company that maintains the lines in question, called this potential cause "highly speculative."
The wine-country fires have also ushered in an environmental crisis in the Bay Area, which is dealing with some of the worst air quality ever recorded. An official with the Bay Area Air Quality Management District called the amount of smoke and air particles in the area "unprecedented" in San Francisco, where air-quality levels matched those in the smog-choked Beijing, China. Some schools are closing as a result of the unhealthy conditions, and area sports teams — including the NFL — are monitoring air quality to see if games need to be moved or rescheduled.
As California smolders, the House of Representatives went ahead and approved a $36.5 billion natural-disaster aid package. The federal assistance, which now awaits Senate approval, will go to both the wildfire and hurricane relief in Puerto Rico, also still in crisis mode after the September storm.