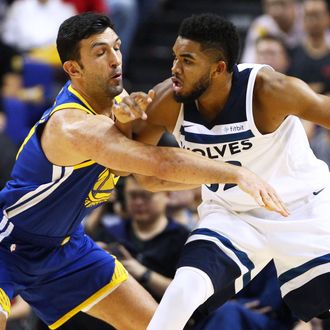 Karl-Anthony Towns thinks so.
Photo: Zhong Zhi/Getty Images
Like a lot of 21-year-olds, Karl-Anthony Towns spends a fair amount of his time playing video games. Unlike most 21-year olds, though, Towns is seven feet tall and is paid millions of dollars to play basketball.
Towns, the first overall pick of the 2015 NBA draft, is one of the most promising players in the NBA. He represents the evolution of basketball — a player with such a broad skill set he could theoretically play any position. During the 2015 NBA All-Star Weekend, Towns entered the Skills Competition, a timed shooting, passing, and ball-handling obstacle course originally conceived for point guards, who are generally the smallest players on the court. Towns took first place — all seven feet and 244 pounds of him.
If you still have a mom's-basement sense of what a gamer looks it, it might be surprising to learn that a supreme athlete like Towns is an avid gamer. But I spoke to Towns after he finished playing the beta for Call of Duty: World War II a few months before its November release (Towns has been playing the war-themed shooting franchise since its first edition, in 2003, when he was 7) and he told me he credits the game with developing his on-court skills.
"I think that your reaction speed when playing video games, especially at a competitive level, has a true correlation to hand-eye coordination," Towns said. "The ability to recognize the situation, assess the situation, and react to it in the right way, especially in a game like Call of Duty or these first-person shooters, definitely helps."
There's some science to back this up. Studies have been conducted suggesting that action video games like Call of Duty can have a positive effect on sensorimotor skills, emphasizing an ability to learn and remember patterns players will be faced with again. Some have concluded that certain video games better prepare players for the cognitive skills used to drive or even perform laparoscopic surgery.
While motor skills are an essential part of sports, limited research has been done correlating video games and athletic prowess. One obstacle is that there are so many variables that could account for the skills needed in different kinds of sports, it's nearly impossible to draw a direct correlation to something like video games.
Dan Peterson is an "athlete cognition coach" and co-wrote The Playmaker's Advantage: How to Raise Your Mental Game to the Next Level. He explained what's called the "athlete cognition cycle": This consists of an athlete's visual perception, decision-making, and motor skills, all of which are required to process and act upon numerous things happening on the court or field. Sharpening those skills, according to Peterson, creates an undeniable advantage between two similarly athletic players.
Peterson made it clear that, above all else, playing a sport is the best way to improve at that sport, but also noted, "since athletes can't play their sport for 12 hours a day, due to fatigue and breakdown, what are some other ways off the field that you could exercise your cognitive skills?"
Elite athletes have been trying to figure that out, sometimes to an elaborate, if not ridiculous, extent. Brandon Payne, the trainer for two-time NBA MVP Steph Curry, makes Curry wear strobe goggles projecting different colors in unpredictable patterns while he shoots three-pointers; the practice is a sensory overload that frustrates Curry and forces him to make quick decisions. The goal is neuro-cognitive efficiency. New England Patriots quarterback Tom Brady contacted "brain fitness" software company BrainHQ in order to gain a mental edge on the field.
The journalist Brandon Sneed, who researched and reported about these mental-training strategies in his book Head in the Game: The Mental Engineering of the World's Greatest Athletes, writes that while there is some science behind BrainHQ's cognitive benefits, he himself is still skeptical that the software would affect a person's performance in something as specific as football or basketball.
Shawn Green, an assistant professor of psychology at the University of Wisconsin-Madison, believes that games like Call of Duty develop retained skills specifically because they are fun. Games created with the sole intent to improve cognition are what he referred to at a panel at the University of California, San Francisco, as "chocolate-covered broccoli." The level of genuine engagement in the game correlates with how likely the player is to retain the skills necessary to play it.
The cognitive skills to help Towns on the court are present in a chaotic game like Call of Duty, according to Green, but, in those moments, they are accessed by his investment in Call of Duty, not by his investment in basketball. Our brains, Green said, have the ability to remember every face we've ever come across, but they are selective with how they use their energy. Call of Duty incentivizes the brain to use its energy by providing rewarding sensory stimulus. "If something is linked with reward, [the brain] knows it's worth changing," Green said.
Sneed looks at Towns's enjoyment of video games and offers a much simpler, less scientific possibility. "Another side of this is, look, if guys think it's helping them, then it's helping them," Sneed told me. Sneed believes that taking care of one's mental state has an irrefutable effect on athletics. He says every athlete could benefit from talking to a psychologist regularly. Even if video games are just helping Towns "chill out," that might be more valuable than one might assume.
Maybe the best indication of the relationship between real athleticism and video-game athleticism is that Towns is far from the only athlete to make the connection. Oklahoma University quarterback Baker Mayfield, currently a leading candidate to win the Heisman trophy, is obsessed with Halo, a similar game to Call of Duty. Mayfield equates the balance of information required to navigate the game while being shot at by opponents to his receivers running routes.
"Being able to look at my receivers, which would be my guy on the screen, and then feel other guys moving around, which would be the radar in the bottom left corner," Mayfield said told SoonerSports. "You have to be able to see things out of the corner of your eye."
New Orleans Saints running back and former Heisman winner Mark Ingram compared gaming to football on the Achievement Oriented podcast, claiming that to play Call of Duty, "All your fingers and your thoughts have to be moving together. Even on the [football] field you always have to be aware. If you hesitate for a second you'll probably get knocked out."
Whether Towns's reaction time on the basketball court has anything to do with his reaction time with a controller in his hand is hard to measure. But try to beat Towns in either and you're unlikely to stand much of a chance. "It will definitely teach you to go with your instinct," Towns told me.
"Because instinct is definitely something you need to trust when you're on the battlefield."