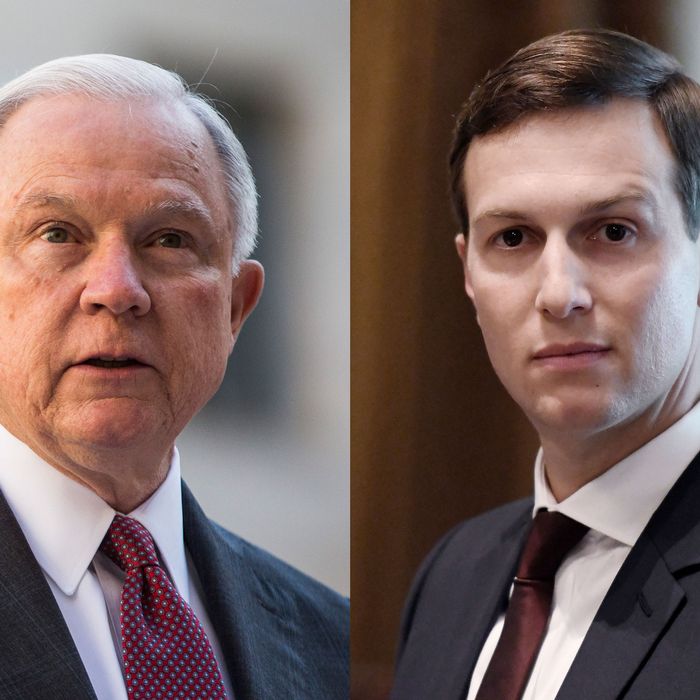 Attorney General Jeff Sessions fought federal sentencing reform as a senator. But now the presidential adviser and son-in-law is engaged on the other side of the issue.
Photo: Zach Gibson/Olivier Douliery-Pool/Getty Images
One of the bitterest defeats for a very fragile spirit of bipartisanship in the last Congress occurred in September, when Mitch McConnell denied the Sentencing Reform and Corrections Act a Senate vote. This premiere criminal-justice-reform legislation, aimed at reducing sentences for nonviolent federal offenders and decreasing prison overcrowding, had 36 Senate co-sponsors — 16 Republicans and 20 Democrats — and an array of supporters from across the ideological spectrum, from the Center for American Progress to the Koch Brothers and the Heritage Foundation. There was also some bipartisan momentum built up by reform initiatives at the state level, some championed by Republican governors.
But alas, the modest sentencing-reform bill came into conflict with 2016 GOP campaign rhetoric (especially emanating from Donald Trump) about a national "crime wave," which made the opposition of a few noisy Senate Republicans (led by Trump's great friend Jeff Sessions, his rival Ted Cruz, and rising right-wing star Tom Cotton) eventually too strong for McConnell's taste. Sessions's subsequent appointment as attorney general, followed in May of this year by his instructions to federal prosecutors demanding they pursue maximum sentencing, appeared to cast too great a pall on the criminal-justice-reform cause to allow for much optimism.
But now, sponsors of the original SRCA bill are back. The bill still reduces a bunch of mandatory-minimum sentences, and it still makes all federal prisoners eligible for recidivism-reduction and prison-work programs. But there are a couple of new twists: provisions that actually increase penalties for repeat violent offenders, and perhaps most importantly, a companion bill that deals with so-called "mens rea reform." This sub-cause beloved of libertarian-leaners like Rand Paul and the Kochs makes criminal intent a default requirement in federal prosecutions. Mens rea reform used to bug Democrats worried about the impact on prosecution of white-collar crimes, but sponsors now have some liberal groups onboard. Linking the two bills should supercharge criminal-justice reform, particularly on the Republican side that controls all the levers in Congress.
So does the renewed optimism about criminal-justice reform take fully into account Sessions's position, and his influence on Trump? To a considerable extent, yes. It's not lost on reform proponents that Sessions is perpetually in the doghouse with his boss, thanks to his self-recusal over the Russia investigation. But perhaps more important is the fact that a counterweight to the attorney general has arisen in the Trump administration: senior adviser and son-in-law Jared Kushner.
You might wonder how this topic wound up on Kushner's crowded plate. He's taken on federal prison reform as part of his Office of American Innovation gig, which aims at reinventing- government-type improvements in the cost and efficiency of the federal government. And he apparently has a strong personal motivation based on his own beloved father's experience during 14 months in the federal hoosegow for campaign-finance violations and other crimes.
Counting on Kushner to keep the administration from interfering with criminal-justice reform sounds a bit perilous. But a Senate staffer told Michelle Cottle earlier this year: "If Kushner gets behind this effort and decides this is good for Trump, we're gonna find out whether he has any influence with the president or not."