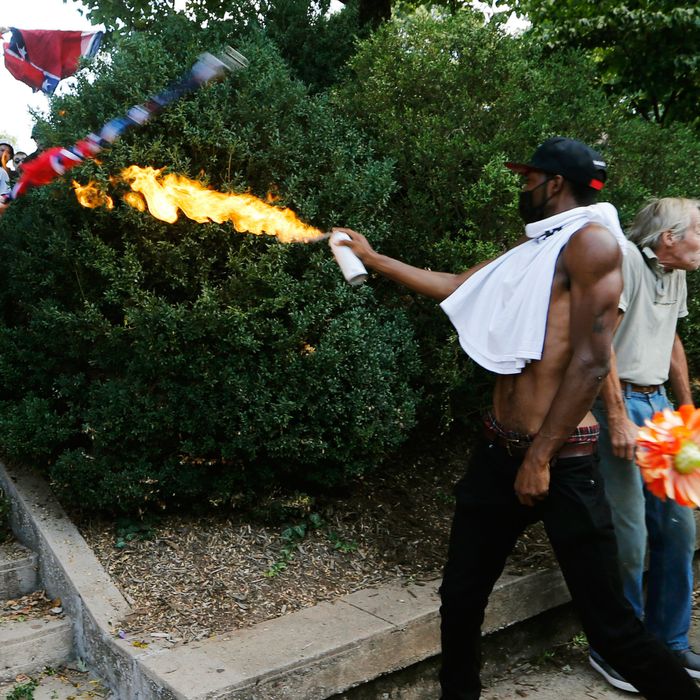 The famous photograph.
Photo: Steve Helber/AP Photo
Corey Long, who was photographed using an improvised flamethrower against a Confederate-flag-carrying marcher in Charlottesville, Virginia, in August, was arrested on charges of assault and battery and disorderly conduct last week.
Police Lieutenant Stephen Upman, a Charlottesville police spokesman, told the Root that the disorderly conduct charge related to the flamethrower, and the assault and battery charge stemmed from a separate incident during the day.
The New York Times reported that, according to a warrant, the second charge "was based on an allegation from Harold Crews, a self-described Southern nationalist and the state chairman of the North Carolina League of the South."
Days after the march, Long told the website that he had been acting to protect a nearby white man when he sprayed a ball of flame into the air. He also said a white nationalist had fired a gun near him just before the photo was taken, an account confirmed by photo and video evidence. (That marcher, Richard Wilson Preston, was arrested in August and faces up to ten years in prison.) Long said he used a can of spray paint another white nationalist had thrown near him to ignite the torch, keeping marchers away from him and the man he was trying to protect.
Long turned himself in and was released on bond on Friday, going back to protesting within hours of his release. They arrested me on some straight B.S.," he said, referring questions to his lawyer, Malik Zulu Shabazz, the former national chairman of the New Black Panther Party.
The image of Long almost casually spraying the torch at the flag-wielding white nationalist became one of the defining images from the Unite the Right rally on August 12. As police largely stood down, the rally spiraled into violence between marchers and counterprotesters, which turned deadly when James Alex Fields rammed his car into a crowd, killing 32-year-old Heather Heyer. Fields was charged with second-degree murder.
In another incident captured on tape, 20-year-old DeAndre Harris was beaten by white nationalists in a parking garage after a scuffle involving him, Long, and a group of marchers escalated. With the help of social media, three of Harris's assailants have been identified and arrested – but so has Harris, on a charge of "unlawful wounding."