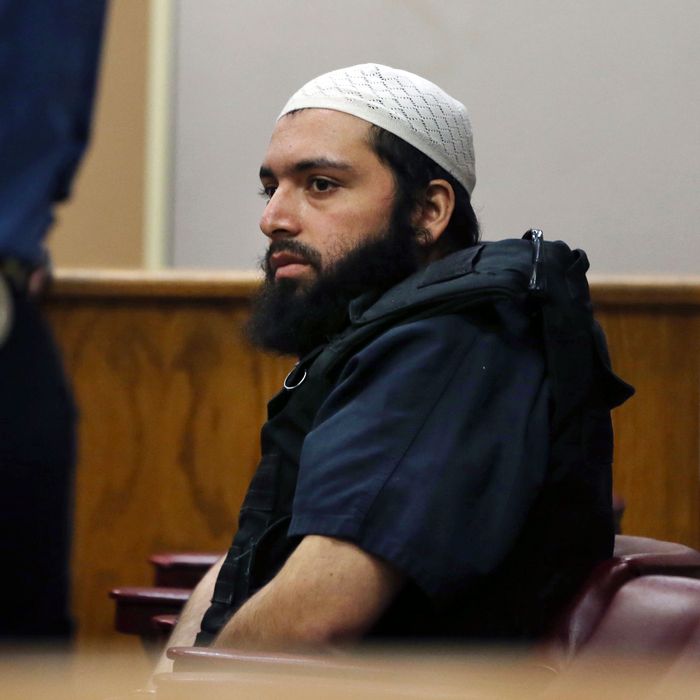 Rahimi, guilty on all counts, in December 2016.
Photo: Mel Evans/AP Photo
A federal jury found Ahmad Rahimi guilty of detonating shrapnel-packed explosives that injured about 30 people in the Chelsea neighborhood of Manhattan last year. He was convicted on all eight counts, including the use and attempted use of a weapon of mass destruction. Rahimi faces a mandatory life sentence.
The New Jersey man, inspired by Osama bin Laden and other terrorist attacks, planted at least nine bombs in New York and New Jersey during a September weekend last year. One, planted on West 23rd Street in Chelsea, blew up on a Saturday night and wounded 30 bystanders. Rahimi squirreled another pressure-cooker bomb into a suitcase on West 27th Street, which was dismantled by police before it could go off, though it may have been made defective after two guys picked up the suitcase from the street and removed the bomb, jostling its detonator. Rahimi also set off a pipe bomb in a trash can near a charity race in Seaside, New Jersey, and dumped six IEDs near the train station near Elizabeth, New Jersey, though only one exploded as police were attempting to disarm the arsenal. No one was injured in either of those incidents.
Rahimi's fingerprints were found on the unexploded bomb in Chelsea, which helped authorities link him to the attack and sparked a massive manhunt. Rahimi was later discovered in suburban New Jersey, where he engaged cops in a firefight, killing one and injuring another. Rahimi still faces separate murder and attempted murder charges for his role in the shootout.
This federal trial lasted two weeks, and included evidence from the crime scenes in Chelsea and testimony from those injured in the attacks, reports the New York Times. The jury deliberated for less than four hours before handing down the verdict, which acting U.S. Attorney for the Southern District of New York Joon H. Kim called a "victory for NYC, America, & the cause of justice."