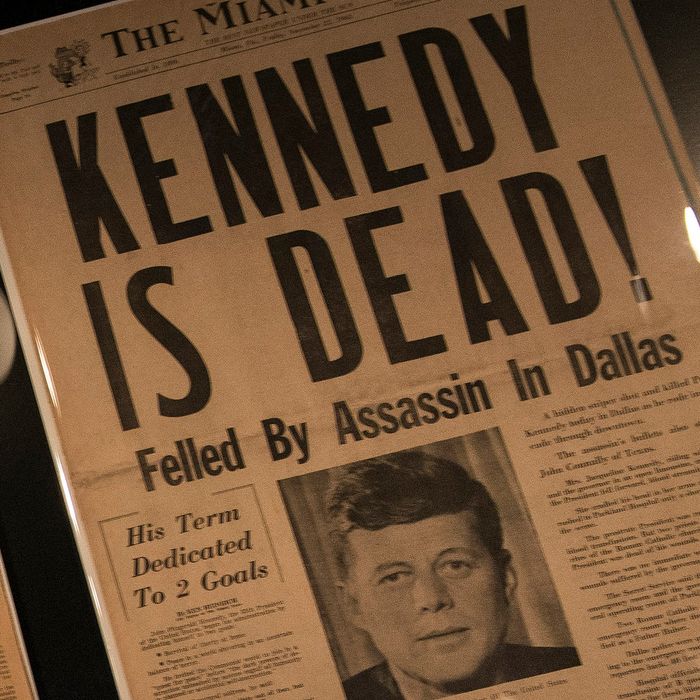 Front pages showing the news of JFK's assassination.
Photo: Brendan Smialowski/AFP/Getty Images
Thousands of classified documents pertaining to the assassination of President John F. Kennedy will be released by the National Archives over the coming days, according to a tweet sent by President Trump on Saturday. The president said that he will "allow" the "long blocked and classified JFK FILES to be opened," though he prefaced the statement by saying it was "subject to the receipt of further information." The documents are legally required to be made public by October 26, but there have been reports that Trump would block the release of some of the files at the request of his national-security advisers. The resulting media coverage may have prompted Trump's tweet on Saturday; whatever the reason, the president did not confirm that he would release all the files as required.
Earlier this week, the White House said that it was trying "to ensure that the maximum amount of data can be released to the public" by October 26, which is the deadline Congress set by law in 1992. But Politico reported on Friday that the president would most likely block some of the information from becoming public. According to the site, the Trump administration feared that a small number of files created by the CIA in the 1990s would expose intelligence and law-enforcement operations, procedures, and personnel from that time period. For that reason, some documents may ultimately be withheld or released with some of their contents redacted, at the request of national-security officials.
All or most of the JFK assassination–related files from the '60s and '70s are still expected to be released, including more than 3,000 never-before-seen files that detail events like assassin Lee Harvey Oswald's trip to Mexico City two months before killing Kennedy — during which he reportedly visited the Soviet and Cuban embassies.
The October 26 deadline was set by the 1992 JFK Assassination Records Collection Act, which was passed by Congress and signed into law by President George H.W. Bush amid a surge of interest in assassination conspiracy theories following the release of Oliver Stone's 1991 film JFK. Most remaining government documents related to the assassination were released in the 1990s, but historians and conspiracy theorists have been eagerly awaiting this last pile for 25 years.
President Trump waded into JFK conspiracy-theory territory last year, when, in the midst of the GOP primaries, he suggested that opponent Ted Cruz's father was associated with Oswald. And longtime Trump adviser Roger Stone, who authored a book accusing Lyndon B. Johnson of being behind the assassination, has said that he has personally lobbied Trump to release the JFK files in their entirety. Appearing on conspiracy theorist Alex Jones's Infowars show this week, Stone alleged that CIA director Mike Pompeo was trying to block the release to hide the agency's involvement in JFK's death. Regarding Trump and the documents, Stone said that he thinks the president is "going to do the right thing."