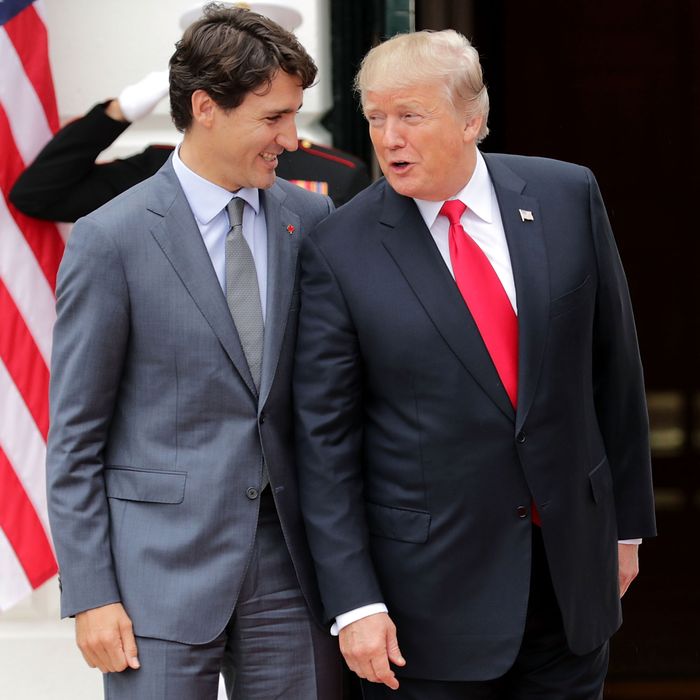 Trump and Trudeau.
Photo: Chip Somodevilla/Getty Images
President Trump on Wednesday signaled the possibility of the U.S. striking a bilateral trade deal with Canada if talks to renegotiate NAFTA break down.
"Oh sure, absolutely. It's possible we won't be able to reach a deal with one or the other, but in the meantime we'll make a deal with one," Trump said when a reporter asked about individual trade deals with Canada and Mexico.
Trump's comments came as he was seated next to Canadian prime minister Justin Trudeau, who is in Washington as negotiators gather for the fourth round of talks to renegotiate NAFTA. A bilateral deal with Canada will only be necessary if those negotiations fail, something that Trump appears to want. In an interview with Forbes published this week, he said NAFTA "will have to be terminated."
Trump was less willing to commit to pulling the plug on NAFTA Wednesday. "We'll see what happens," he said when asked if the deal is already dead. "It's possible we won't be able to make a deal, and it's possible that we will."
Trudeau was more optimistic about the future of the 23-year-old trade deal. "We gave a good partnership and there are always ways to improve it, always issues we need to talk through and that's why having an ongoing constructive relationship between the president and prime minister is really important," he said after the meeting Wednesday.
The Canadian press has suggested that Trudeau is on a "charm offensive" in a last-ditch effort to save the deal. As a part of that campaign, he hung out with Ivanka Trump on Tuesday night and visited the House Ways and Means Committee on Wednesday.
"In terms of trade, the U.S. sells more to Canada than it does to China, Japan and the United Kingdom combined. So we are your biggest customer," he told lawmakers. "There will always be challenges that come up that we can thoughtfully work through."
Some observers don't think the U.S. is trying very hard to work through the challenges. On Tuesday, U.S. Chamber of Commerce president Tom Donahue accused the Trump administration of taking "poison pill proposals" to the negotiations.
Donahue identified proposals from the Trump administration to impose a sunset clause that would stipulate that the revised trade agreement would terminate after five years unless all three countries agree it should continue and increasing the percentage of parts that are used in cars and other products that have to made in the U.S., Canada or Mexico to qualify for duty-free treatment under the deal as troublesome to negotiators from Canada and Mexico.
The Trump administration is not worried about the Chamber though. Responding to criticism from the group last week, a spokesperson for the Office of the U.S. Trade Representative said, "The president has been clear that NAFTA has been a disaster for many Americans, and achieving his objectives requires substantial change. These changes of course will be opposed by entrenched Washington lobbyists and trade associations. We have always understood that draining the swamp would be controversial in Washington."