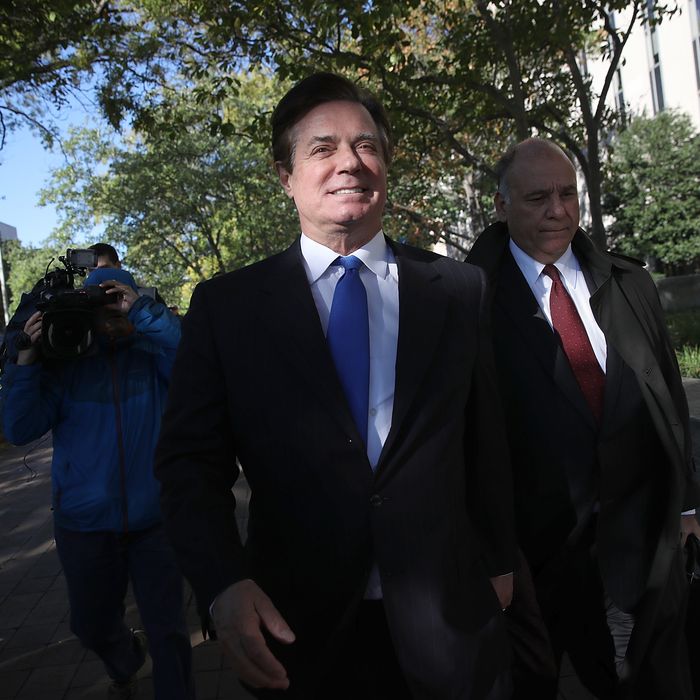 Paul Manafort leaves U.S. District Court after pleading not guilty following his indictment on federal charges on October 30, 2017, in Washington, D.C.
Photo: Win McNamee/Getty Images
As Paul Manafort was sketched by a courtroom artist following his surrender to the FBI on Monday, his friends, associates, and colleagues throughout the Acela corridor processed the reality of his criminal indictment and its implications for Donald Trump's White House — and for themselves.
"Any spin coming from the White House should be discounted," a former adviser to Trump told me. "This is very, very bad."
Special Counsel Robert Mueller announced indictments against former Trump campaign chairman Manafort and Rick Gates, a protégé who worked on Trump's campaign and served on his inaugural committee. Both men pleaded not guilty to crimes related to illegally funneling millions through shell companies. Additionally, and potentially worse for the White House, Mueller indicted George Papadopoulos, a foreign-policy adviser to the campaign. Papadopoulos pleaded guilty to lying to the FBI about his contact with a Kremlin-connected professor.
Reactions among several of Manafort's allies interviewed by New York ranged from selfish relief and Schadenfreude, to frustration with Mueller and an investigation many in the president's orbit consider a witch hunt, to concern about what it means for the already-hobbling Republican legislative agenda and for the survival of the Trump presidency itself. All spoke on the condition of anonymity.
"Trump's at 33 today in Gallup," the former adviser said, referring to the president's approval rating. "He's gonna be in the 20s soon." From there, the former adviser began to list a spiraling series of events: "If they don't pass tax reform, if the indictments keep coming, they get killed in the midterms, or even if they don't get killed in the midterms? I don't know. I don't know." They paused. "I think we could be looking at a Nixon situation."
Papadopoulos has become a particular challenge for the White House, they acknowledged, because his indictment and guilty plea make it impossible to insist with any credibility that Mueller isn't building a case for collusion — as the president did, earlier Monday in a tweet. "They expected the Manafort stuff but what they didn't expect was something directly tied to the campaign," the adviser said. "This is not going anywhere anytime soon. [The president's attorney] Ty Cobb saying this investigation's gonna be over by the end of the year? That's not happening now."
Part of the problem for the president now, as this former adviser sees it, is who's in his inner circle. "Look, he's surrounded by people who hate him," they said. "He's knocked out all the loyalists and all the people who care about him. And the real loyalists [who remain in the White House]? They're a bunch of quislings. What the hell can those people do?"
"This is," this adviser added, "not good."
Another former adviser claims to have spoken with Manafort about three weeks ago, by which point he already knew he was about to be indicted. "He was kind of palms-up about it. He thought that he was unfairly targeted, but you know it's not Paul's style to complain about it — he's typically close-mouthed about everything. He thought that he would be, in the end, in the clear." The former adviser added that Manafort knew the road ahead would be "difficult" and "it's going to cost a lot of money" but he gave the impression that "he was up for it."
This is in line with what Roger Stone, yet another former Trump adviser and longtime Manafort associate, told me in late September. Mueller, he said then, would indict Manafort for something he guessed would be "phony," and then use it as leverage to force Manafort to turn on the president. "He's not gonna do that," Stone said then. He added that he'd recently spoken to Manafort, who sounded "surprisingly good."
The second former adviser said "the problem" for Manafort is the president's innocence. "There's nothing to flip on. That's the deep and abiding issue and disconnect — that there is nothing to say. There's no Russian collusion. What Mueller has is the allegations of financial crimes of Paul Manafort. He wants to leverage that information to get something, but he's not going to because it doesn't exist, and that puts Paul and Rick in a pretty bad spot, because they've got nothing to give."
More indictments, everyone with a clue knows, are forthcoming. "Nobody's under any illusion that these are the last ones," the former adviser said.
A Republican operative who has known Manafort for decades told me that things are much worse than the White House wants to admit.
"They should be extremely worried," the operative said. "The people who are out spinning are doing their job, saying that this is somehow good news or a good day for the White House …" The operative began to crack up. "That's just not the way it is. Moreover, removed from the whole aspect of a criminal investigation, I tend to look at this from the legislative-agenda standpoint: It's just not what's needed when tax reform has to pass. It's just one more problem. To me, that's the big issue. The tax reform issue is getting derailed or sidetracked."
Heading into the midterms with no tax reform and more indictments looming, the operative said, puts the Republican majority in Congress "further at risk."