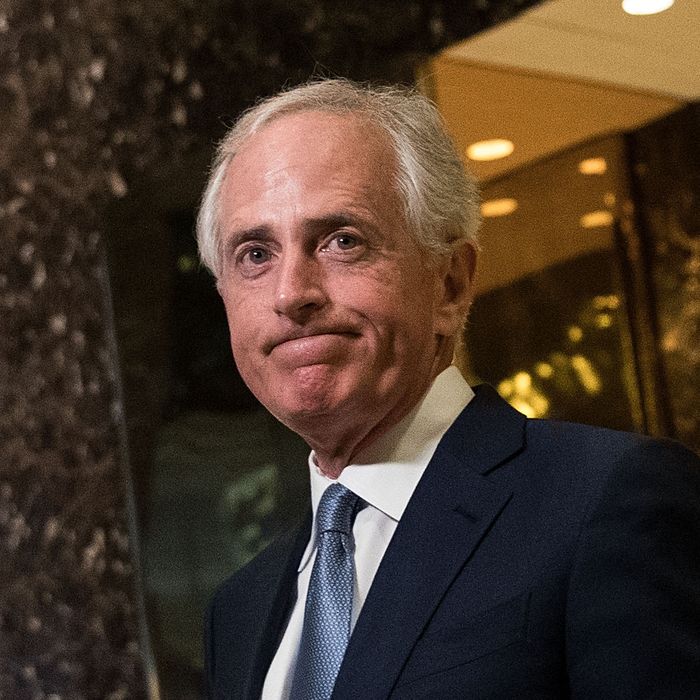 Senator Corker speaking from Trump Tower a few weeks after last year's election.
Photo: Drew Angerer/Getty Images
Republican senator Bob Corker, responding to a Twitter attack from President Trump on Sunday morning, called the White House an "adult day care center" in which "somebody obviously missed their shift" when it came to controlling the president's behavior.
It has become a weekend-morning tradition for the president to attack people on Twitter, and on Sunday, Corker — who announced on September 26 that he would retire and not seek reelection for his Senate seat in Tennessee next year — was Trump's primary target. In that attack, Trump alleged that Corker had "begged" the president for his endorsement in Tennessee's GOP Senate primary race, and then decided not to run at all once Trump refused, among other ridiculing claims:
Corker, the Senate Foreign Relations chair, then responded on Twitter with a dismissal of his own, effectively calling the president a man-child:
Furthermore, the president may be lying again, according to sources who spoke with CNN, Politico, and the Washington Post:
A person familiar with Trump and Corker's recent conversations disputed each of the claims the president made in his tweets. Trump called Corker early last week and asked him to reconsider his decision not to seek reelection, according to this person, who spoke on the condition of anonymity because of the sensitivity of the private conversations. This person said the president also reaffirmed that he would have endorsed Corker had he decided to run again — which, this person added, was not the first time that Trump had extended such an offer of support.
Corker also suggested last week that it was three members of Trump's cabinet, Chief of Staff John Kelly, Defense Secretary James Mattis, and Secretary of State Rex Tillerson, who "help separate our country from chaos." That comment didn't go over very well at the White House, where Press Secretary Sarah Huckabee Sanders later insisted that Donald Trump was "the one that's keeping the world from chaos."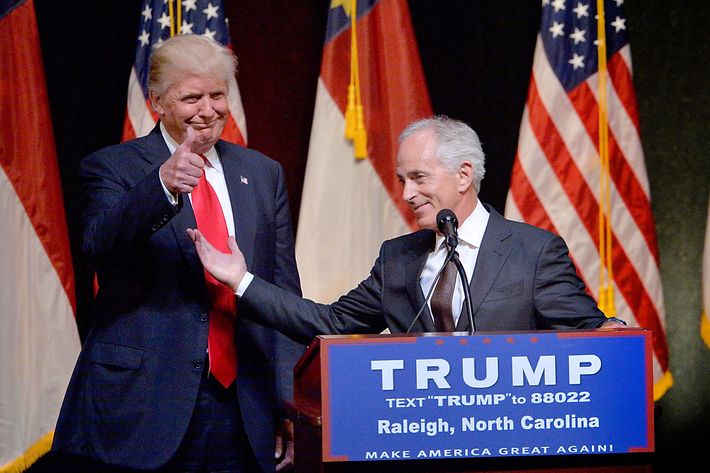 Corker was an important supporter of Trump during his presidential campaign and, as a result, was a candidate for Trump's running mate and, later, his secretary of State. Corker later explained that he hoped to be able to exert influence over the president's foreign policy, but that doesn't seem to have worked out very well for him.
Instead, the pair's relationship has cooled off over the course of Trump's presidency. The last big flare-up was in August when Corker criticized Trump's widely condemned response to the violence at a white-supremacist rally in Charlottesville, Virginia, suggesting that Trump "has not yet been able to demonstrate the stability nor some of the competence that he needs" to be successful. In response, Trump tweeted that Corker was two-faced and claimed that his constituents in Tennessee were not happy with him.
It's not clear what Trump hopes to accomplish by attacking Corker. The senator still has a lot of power through the end of next year. He controls the Senate process around confirming Trump's diplomatic nominees, is key to passing tax reform and redoing the Obama administration's nuclear deal with Iran, and could make confirming a replacement for Tillerson much more difficult. With no more elections to face, Corker has nothing to lose, and Trump is now giving the senator even more license to criticize him at will.