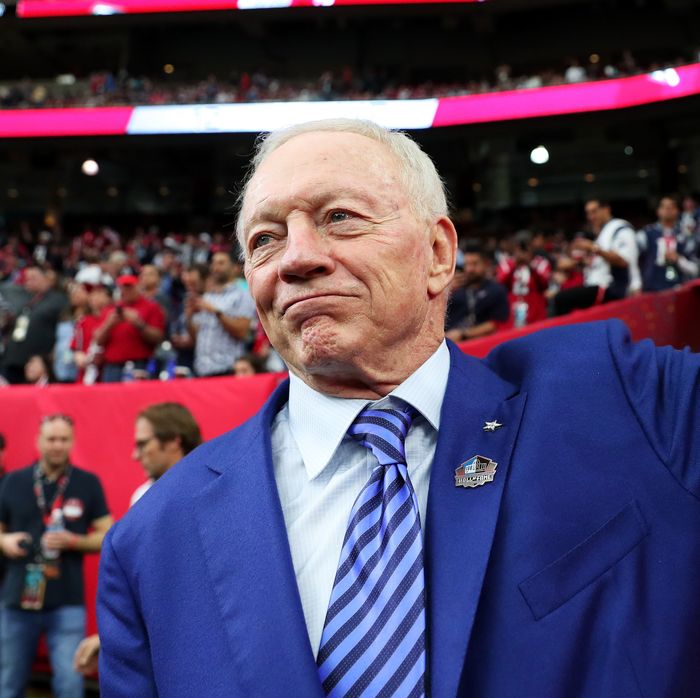 Trump set him straight.
Photo: Tom Pennington/Getty Images
In one of his numerous attempts to add fuel to the controversy over NFL players kneeling in protest during the national anthem, President Trump said last month that after speaking to several team owners, he thinks they're too scared to put an end to the demonstrations. "I think they are afraid of their players, if you want to know the truth, and I think it's disgraceful," he said.
Now one owner — who happens to be friends with Trump — has publicly declared that his team's players are banned from protesting during the anthem. After his team's loss to the Green Bay Packers on Sunday, Dallas Cowboys owner Jerry Jones told the press that he believes all NFL players should stand for the anthem. All of the Cowboys were on their feet at Sunday's game, and Jones suggested he was unaware that two players raised their fists toward the end.
"I don't know about that. But if there is anything that is disrespectful to the flag then we will not play," Jones said. "You understand? If we are disrespecting the flag then we won't play. Period."
"We're going to respect the flag, and I'm going to create the perception of it. And we have," he added.
Jones was responding to a question about Vice-President Mike Pence's pricy stunt, in which he attended Sunday's Colts and 49ers game just so he could walk out when players took a knee.
"Our vice president, if in his opinion, there's disrespect of the flag then he should express himself however he wants to say. He's got rights, too. He felt that not standing for the flag is disrespectful. I do, too. The league in my mind should absolutely take the rules we've got on the books and make sure that we do not give the perception that we're disrespecting the flag," Jones said.
Jones, who donated $1 million to Trump's inaugural fund, took part in what appeared to be an anti-Trump demonstration before a game on September 25 (though the announcer said it was about "unity," and it's become unclear what teams and individuals are trying to convey). Prior to the playing of the national anthem, Jones joined every Cowboys coach and player in linking arms and taking a knee. Then they all stood for the anthem.
Jones said he spoke with Trump after that demonstration and "he shared with me that there'd been a rule on the books in our game operations … that's been there for years … He said, 'This could have all been resolved.'" He noted that he and Trump are "friends," but "there are several things we don't agree about.'"
Jones wasn't the only owner who suddenly didn't appear to be so united with his players. Dolphins owner Stephen Ross said prior to Sunday's game that President Trump had "changed that whole paradigm" of what kneeling during the anthem means, so "I think it's incumbent upon players today if that's how the public is looking at it, is to stand and salute the flag."
"Trump has made [standing for the anthem] about patriotism," Ross added. "It's so important if that's what the country is looking at to look at it differently … It's a different dialogue. Whenever you're dealing with the flag, you're dealing with something different."
Three Miami players who had been protesting during "The Star-Spangled Banner" were not on the field during the anthem this week. (Also on Sunday, the team said it has no comment on a video that appears to show offensive line coach Chris Foerster snorting a powdery white substance.)
Journalist Shaun King said players on at least seven teams were told they must stand for the anthem this week.
While many criticized Pence for wasting taxpayer money by flying from Las Vegas to Indianapolis, just so he could walk out of the game and head back to the West Coast, apparently the move did have the effect Trump was looking for: keeping the anthem controversy going for another week.