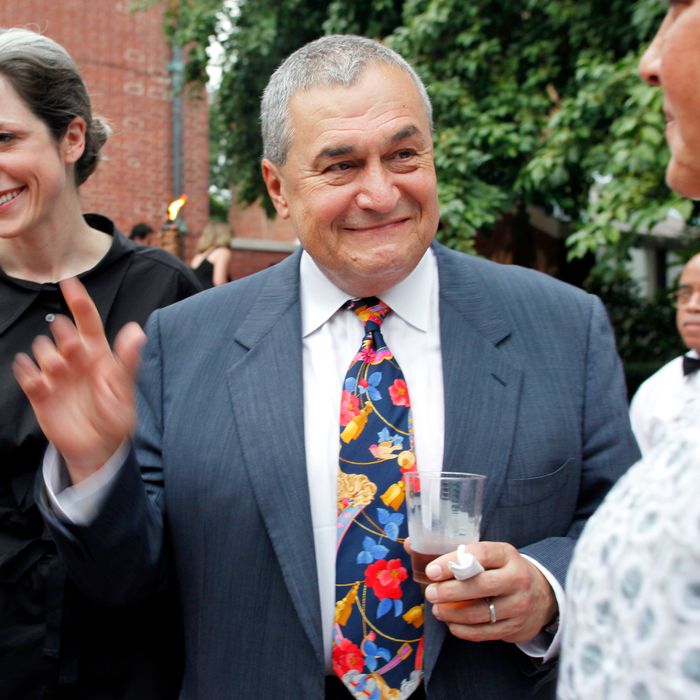 Tony Podesta, pictured with his ex-wife, Heather, during a party at their D.C. home on August 2, 2011.
Photo: Rebecca D'Angelo/The Washington Post/Getty Images
For most news outlets, the first indictments in Special Counsel Robert Mueller's Russia investigation was the biggest story of the day, but on Monday evening right-wing sites like Breitbart, Drudge, and the Daily Caller were more interested in the resignation of powerful Democratic lobbyist Tony Podesta.
Unlike Trump's former campaign chairman, Paul Manafort, and his protégé Rick Gates, Podesta has yet to be charged with any crimes. His decision to step down is a significant consequence of Mueller's probe, but he's drawn outsize interest on the right because he's the brother of Hillary Clinton campaign chairman John Podesta.
The Podesta Group and another firm, Mercury Public Affairs, were referenced in the indictments, though not by name. In what Mueller's team describes as a "scheme," Manafort and Gates put together a PR campaign to rally support in D.C. for Ukraine and its former president Viktor Yanukovych without properly registering with the U.S. government. As part of that effort, in 2012 the two firms were hired to lobby for a Brussels-based nonprofit called the European Centre for a Modern Ukraine.
Though their work ended in 2014, the firms only registered with the Justice Department this year. While violating the Foreign Agents Registration Act is a felony, the law hasn't been strictly enforced.
Molly Levinson, a spokeswoman for the Podesta Group, said the firm's work was "in support of Ukraine's admission into the [European Union]," and the Brussels nonprofit had certified that "it was neither funded by nor directed by a government or political party." She added: "The Podesta Group has fully cooperated with the Special Counsel's office and taken every possible step to provide documentation that confirms compliance with the law."
Tony Podesta announced his departure at a staff meeting on Monday. According to the Washington Post, he said, "It is impossible to run a public affairs firm while you are under attack by Fox News and the right-wing media." Another source told Politico he said he "doesn't intend to go quietly," but he "needs to fight this as an individual, but doesn't want the firm to fight it."
The Podesta brothers founded the firm in 1988, and John left in 1993. In the past three decades it's become one of the most profitable lobbying shops in D.C. While John spent most of his career in government, Tony gained influence as a bundler, hosting lavish fundraisers at his home in Kalorama and donating nearly $1.2 million to Democratic candidates over the years.
The Mueller investigation has taken a toll on the Podesta Group. According to Politico, the firm recently lost some clients, and brought in $4.8 million in the third quarter of 2017, down from $6.1 million in the third quarter of 2016.