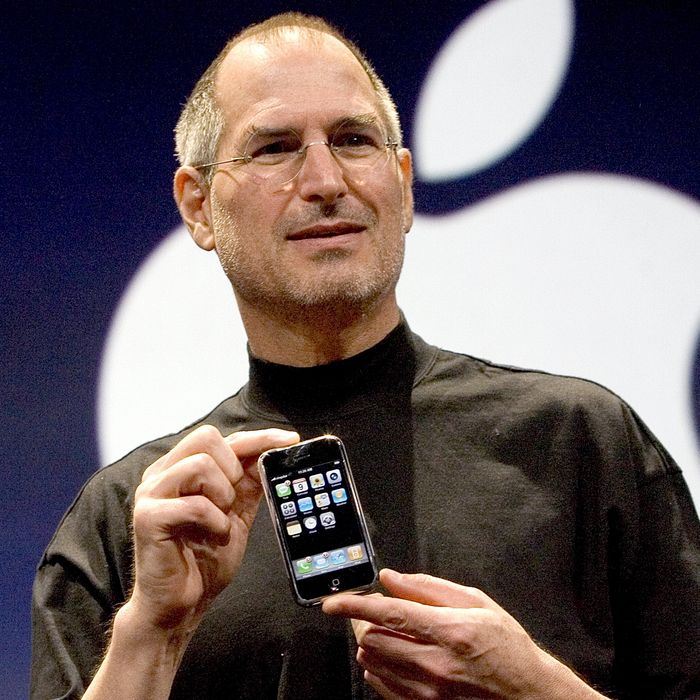 The ghost of Steve Jobs does
not
approve.
Photo: David Paul Morris/Getty Images
The Dow Jones newswires had what they're calling a "technical error" earlier today, causing them to falsely report that Google bought Apple for a cool $9 billion. (What a steal!)
Among other things, the multiple news alerts sent out by the Dow Jones stated that "Steve Jobs Suggested this in His Will," and that, in response, "Google Says Yay" and will "Get 9 Apple Shares for Each Google Share." Thankfully, neither Apple nor Google's actual stock prices were affected by the fake report, probably because no one in their right mind would believe that Apple could be bought for a mere $9 billion.
In a statement to 9to5Mac, the Dow Jones insisted that the affair was merely a technical error and apologized. Yet, the idea that the publication of at least six fake headlines and one multi-sentence false story happened totally by accident seems fishy. At the very least, someone out there had to type all of this up and hit publish.
Whatever the true story is, we probably won't get to hear it. Instead, all we're left with is this statement from the Dow Jones: "Please disregard the headlines that ran on Dow Jones Newswires between 9:34AM ET and 9:36AM ET. Due to a technical error, the headlines were published. All of those headlines are being removed from the wires. We apologize for the error."
Also: breaking news! Bloomberg Professional Services has just bought Dow Jones for $3.5 million. [Editor's note: News of this acquisition is false, and appeared due to a technical error at New York Magazine. We apologize for the error.]