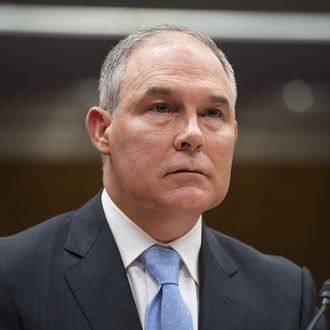 Scott Pruitt.
Photo: SAUL LOEB/AFP/Getty Images
Before becoming President Trump's Environmental Protection Agency administrator, Scott Pruitt spent years fighting environmental regulation. Since taking over the EPA, Pruitt has denied the scientific community's consensus opinion on global warming and removed most mentions of climate change from the EPA website, leaving agency employees worried that they will be prevented from keeping the public informed about climate change. Those concerns appear to have been borne out over the weekend, when the EPA barred three of its scientists from giving presentations on climate change at a conference in Rhode Island.
As the New York Times first reported, EPA scientists Autumn Oczkowski, Rose Martin, and Emily Shumchenia were scheduled to speak at Monday's State of the Narragansett Bay and Watershed, an event that will coincide with the release of a report on the health of Narragansett Bay. Oczkowski, Martin, and Shumchenia all contributed to the report, which, according to organizers, features "significant" discussion of how climate change has affected the bay. Tom Borden, whose Narragansett Bay Estuary Program is hosting the conference, told the Times that an EPA official called him on Friday to cancel the scientists' appearances. "I was not really provided with a clear explanation," Borden said. "He advised me that it was the decision of the E.P.A. Office of Public Affairs."
"It's definitely a blatant example of the scientific censorship we all suspected was going to start being enforced at E.P.A.," said John King, who also works on the program. "They don't believe in climate change, so I think what they're trying to do is stifle discussions of the impacts of climate change." Meanwhile, Democratic Rhode Island senator Sheldon Whitehouse told the Washington Post that the EPA had "muzzled" the scientists. "Whatever you think about climate change, this kind of collaboration should be a no-brainer," he said.
In an email to the Post, EPA spokesperson John Konkus wrote, "EPA scientists are attending, they simply are not presenting, it is not an EPA conference." (The EPA provides $600,000 in annual funding to the Narragansett Bay Estuary Program.) The Post reports that "at least one senior regional EPA official" will attend the event, while it's unclear if the scientists who were supposed to speak still plan to go.