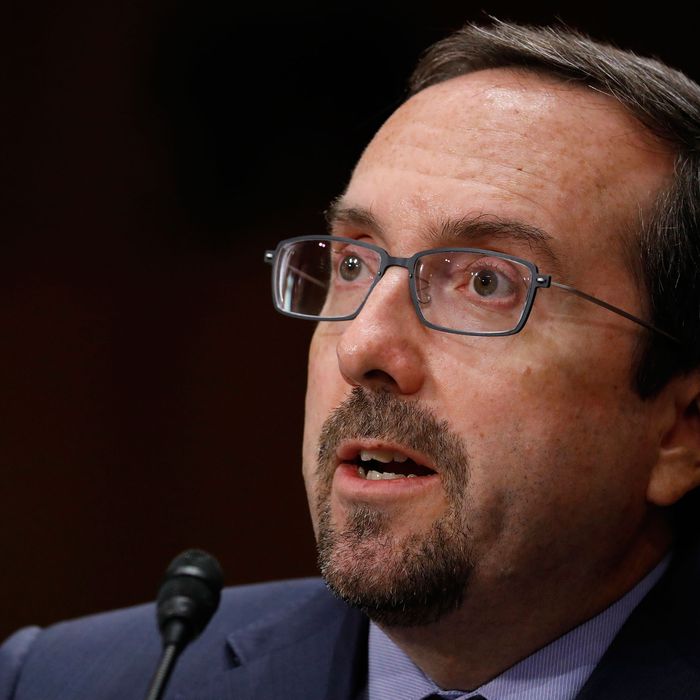 Outgoing U.S. ambassador to Turkey John Bass implicitly accused by Erdogan of manufacturing a crisis to hide complicity in the failed 2016 coup attempt.
Photo: Aaron P. Bernstein/Getty Images
A war of words and dueling sanctions between the United States and Turkey, a once-valued ally in the world's most sensitive region, just got worse. And this time, it was Turkish president Recep Tayyip Erdogan who personally delivered the slap at the Trump administration, as Reuters reports:
President Tayyip Erdogan blamed the U.S. ambassador to Turkey on Tuesday for a diplomatic crisis between the two countries and said Ankara no longer considered him Washington's envoy.




In a blunt and personal attack on outgoing ambassador John Bass, Erdogan suggested Bass acted unilaterally in suspending visa services in Turkey after the arrest of a U.S. consulate worker, and said "agents" had infiltrated U.S. missions.
Bass, a career diplomat, has been nominated to serve as the next U.S. ambassador to Afghanistan. But Erdogan is going out of his way to insult his integrity on the way out the door.
There are a variety of tensions surrounding the U.S.-Turkey relationship, stemming from developments as diverse as America's decision to arm Syrian Kurds to the beating of protesters in Washington by Erdogan's bodyguards during a presidential visit to meet with Trump. But the current problems seem rooted in the failed July 2016 coup against Erdogan that the regime blames on agents and followers of Fethullah Gulen, an exiled Turkish religious leader living in Pennsylvania.
An arrest by Turkish authorities of a Turkish employee of the U.S. embassy in Ankara for alleged complicity in the coup conspiracy blew up into a diplomatic crisis over the weekend, as the U.S. suspended travel visas to the U.S. from Turkey, and the Turks reciprocated with identical countermeasures. Erdogan's attack on Bass insinuates that the sanctions on his country were designed to cover up embassy involvement in the coup.
Erdogan's words also represented something of a calculated insult to Trump and to Secretary of State Rex Tillerson:
"An ambassador in Ankara taking decisions and saying he is doing so in the name of his government is strange," Erdogan said. "If our ambassador did this, we wouldn't keep him there even a minute."
Presumably Erdogan knows that if he gets engaged in an extended exchange of insults with Donald Trump, it may be difficult to rein it all in. But for the moment, he seems transfixed by anger that the U.S. hasn't arrested and extradited Gulen. Indeed, he's suggested his government will only release U.S. clergyman Andrew Brinson, jailed a year ago for supposedly spying on the regime, if the U.S. serves up Gulen on a platter. It's an increasingly dangerous standoff.