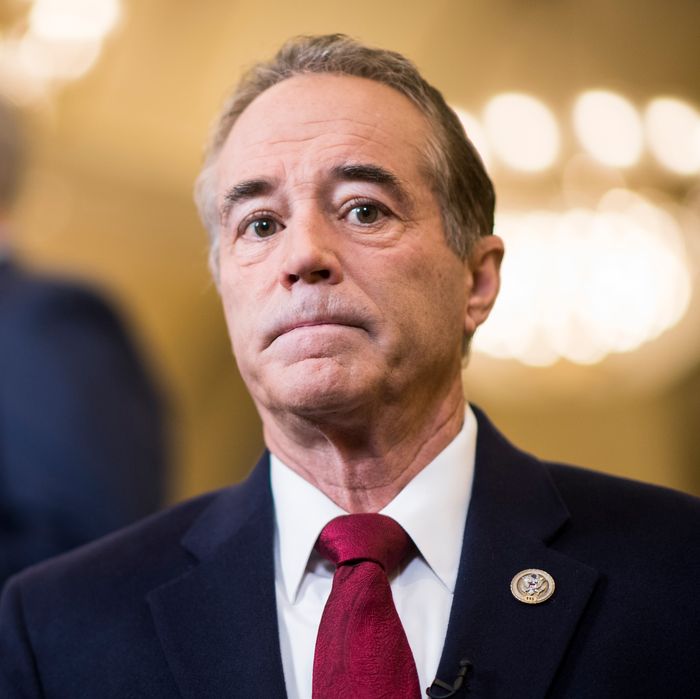 Chris Collins lost $17 million on Innate Immuno stock in June.
Photo: Bill Clark/CQ-Roll Call,Inc.
Representative Chris Collins, a Republican who represents much of western New York, may have violated both federal law and House ethics rules by promoting Innate Immunotherapeutics, an Australian biotech firm he is invested in, according to a report from the Office of Congressional Ethics.
Collins is the largest shareholder in Innate Immuno, and his connection to the company first drew scrutiny in January during former Health and Human Services secretary Tom Price's confirmation hearing. At the time, Collins was accused of getting a discount on the stock because he was a member of Congress, and urging others, including Price, to do the same.
The report found no evidence to support those claims, but it did highlight other potential wrongdoing. OCE said Collins updated shareholders with nonpublic information on the company, such as how many people were participating in the company's clinical trial and discussions with larger pharmaceutical companies about potentially purchasing Innate. That may be a violation of insider-trading laws and the Stock Act, which clarifies that those laws apply to members of Congress.
The panel suggested that Collins may have violated House ethics rules by mentioning the one drug Innate was working on, a treatment for multiple sclerosis, without disclosing his financial interest in the company. He also had his congressional staff set up a meeting with a National Institutes of Health employee. He brought one of his staffers to the meeting, where he asked an NIH expert on multiple sclerosis to help the company with its clinical trial. That expert met with Innate's chief scientist three times. Collins said NIH invited him on a tour, and the meetings were just "scientist to scientist" chats about the difficulty of developing treatments for the disease.
In June, the company's stock plummeted, costing Collins $17 million after it announced that the drug failed in clinical trials.
The House Committee on Ethics said on Thursday that it will review OCE's findings, but stopped short of opening a full investigation. The ethics committee has the power to subpoena witnesses and discipline members, but Washington ethics and criminal defense lawyer Stanley Brand told the New York Times, "It's not a foregone conclusion that the ethics committee is going to take this up."
Collins's attorneys said, "There is nothing in the record to suggest, let alone support, the conclusion that Representative Collins violated House rules, standards of conduct, or federal law." The congressman called the investigation a "witch hunt," and attacked Democratic Representative Louise Slaughter, who was among those who lodged complaints. "She's a despicable human being," he said. "You don't go after another member with fabricated allegations like she did."
Slaughter countered that the report shows Collins "put his obsession to enrich himself before the people he swore to represent. It is a disgrace to Congress and to his constituents, who deserve better."