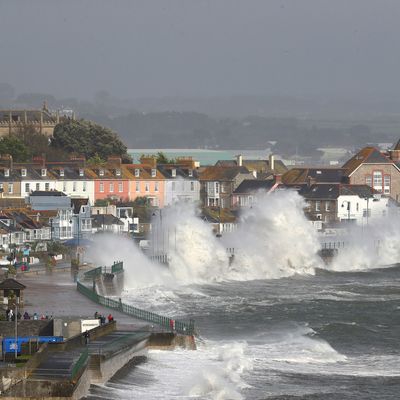 Waves crash onto Penzance seafront on October 16, 2017, in Cornwall, England.
Photo: Matt Cardy/Getty Images
Ophelia, now a post-tropical storm, is battering Ireland with pounding surf, strong winds, and heavy downpours after making landfall early Monday morning. Once a Category 3 storm, Ophelia was the strongest hurricane to ever form this far east in the Atlantic Ocean, making a strange hurricane season even stranger. A storm this powerful has not hit Ireland in more than 50 years, when Hurricane Debbie roared through and killed 11.
A "red wind warning" is in effect across Ireland, where a wind gust as high as 109 miles per hour was recorded in the country's southernmost part, reports the New York Times. Met Eireann, Ireland's National Weather Service, also advised that some flooding was expected "due to heavy thundery downpours or storm surges in coastal areas."
Ex-hurricane Ophelia has killed at least three people in Ireland so far, including at least two who died after trees toppled down on their vehicles. Officials have told citizens to hunker down indoors as the storm passes, as trees buckle in the wind or send objects flying. Public transportation is basically shut down, and airpots from Dublin to Shannon have curtailed operations and canceled a slew of flights Monday and Tuesday. All schools will remain closed through Tuesday. About 350,000 homes and businesses are without power.
Photos and videos on social media show Ophelia's still-powerful wind gusts — and its aftermath of downed trees and torn-apart roofs — near Cork and Kinsale in the south, near where Ophelia made landfall.
Dublin, Ireland's capital on the eastern coast, also got slammed with fierce winds that knocked down trees across the city.
Storm surge sent the Atlantic Ocean roaring into Galway. The U.S. National Hurricane Service warned that Galway, Mayo, Sligo, and Donegal would be the hardest hit by Ophelia's winds and rains.
Ireland is getting the brunt of the storm on Monday afternoon. After it tears across Ireland, it will pass into Britain late Monday and into Tuesday. Ophelia arrives on the 30th anniversary of the Great Storm of 1987, another extratropical cyclone that killed 20.