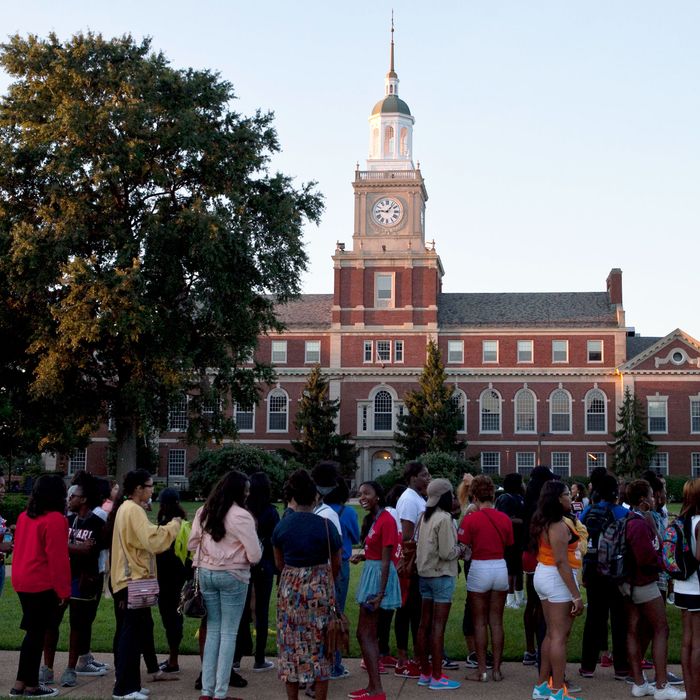 Students at Howard University.
Photo: Nathaniel Grann/The Washington Post/Getty Images
There's a funny joke going around Twitter right now. A guy sits down on a plane and notices that a college professor grading midterms is seated next to him. The professor either doesn't notice or doesn't care that the guy sitting next to him can see the tests he's grading, right down to the names of the students and the university they attend. The guy on the plane fires off a quick tweet letting one student in particular know, well, not to expect good news when they get back to school.
In fact, the joke is so funny, you may have seen it more than once. Here's another version, which replaces Taiwan Jones at Howard University for a Michael Turner at Butler University, which was tweeted 12 hours after the first version went viral. The first iteration maybe actually happened, the second almost certainly did not. (The nearly identical but just slightly altered text between the two tweets is usually a good tell for a stolen joke. It's like when you ask to copy somebody else's homework, and they tell you to change the answers a little so the teacher won't know.)
That might have been the end of the theft, but this particular gag has gotten a second life, as the students named in the tweets — "the students" — have also come out of the woodwork on Twitter. There's a Michael and not one, but two Taiwans all claiming that they're the infamous midterm flunkers. In his defense, @TaiwanJones_ was the first to claim himself as the rightful Taiwan Jones, though @JonesTaiwan_ has had bigger viral success with his tweet. (Editor's note: @TaiwanJones_ has since changed their handle to @TaiwanJoness.) Thickening the plot, there is no one named "Taiwan Jones" listed in Howard University's student-email directory. Select All has reached out to all parties for comment and will update this post if we hear back.
Who is the real Taiwan Jones? Is Taiwan Jones even real? The world may never know.