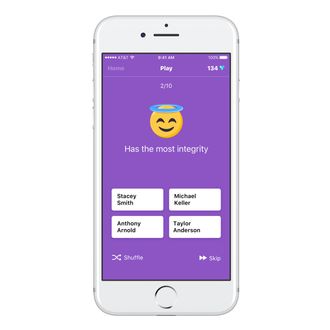 Once upon a time, in a kingdom known as Silicon Valley, there was an anonymous gossip app called tbh – short for "to be honest." "It's cool," proclaimed the kingdom's teenage town crier. "Finally, an anonymous app that's devoted to saying nice things to each other, rather than vicious bullying." Teens liked it. Parents liked it. TBH was good.
But today, TBH announced that it has been acquired by … Facebook. It's not terribly surprising. TBH's rise to the top of the free app chart this summer was swift and the app has has remained up there for weeks alongside apps like Facebook, Messenger, Instagram, and Snapchat. (Notably, Facebook owns all but one of those apps. And it's not for lack of trying that it doesn't own all four.) Today, the app has 4 million daily active users. "My inbox is the who's-who of Silicon Valley investors," a TBH founder told Select All back in September. "We're getting approached by tons of companies who are interested in partnering with us or acquiring us." Now we know the "who's who" included Mark Zuckerberg. And TBH took the bait.
Acquiring TBH helps Facebook move into a space where it has historically struggled. While apps like Instagram — with the introduction of Instagram Stories — have taken off with users of all ages, Facebook hasn't yet quite been able to crack the teen market. This summer, the company pulled Lifestage, a social-media platform geared exclusively toward teens, from the App Store because, well, nobody was using it. TBH already has teenage attention. Lots of it. Which is good news for Facebook, which is likely hoping an infusion of Facebook resources and features will only grow that attention. Assuming the teens don't move on to something else before it gets the chance to do that, as teens are wont to do.