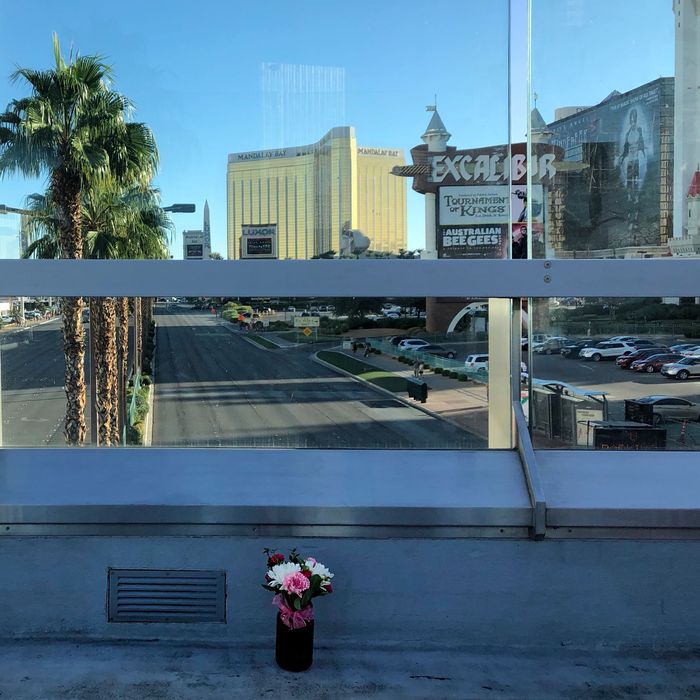 Flowers on a pedestrian bridge over the Strip. The Mandalay Bay is the gold building in the background.
Photo: Cristian Farias
LAS VEGAS — The casino floor inside the Mirage, three miles away from where a gunman killed 59 and wounded several hundred more during a music concert late Sunday, seems unmoved that the deadliest mass shooting in modern U.S. history has gripped Las Vegas and much of the country. Foot traffic is a bit lighter than normal less than a day after the tragedy, but slot machines and their users, a great many of them older and with time to kill, soldier on as if nothing had happened. Same with the street crowds in this area of town.
Maybe that's the way things are supposed to feel in Vegas, whose economy depends on the city operating as normal, as if things are fine and under control.
Out on the Strip, a heavy police presence is visible up and down South Las Vegas Boulevard. But much of this is just business as usual for a hot spot that draws millions of visitors and billions in tax revenue every year. And par for the course in an area where crime rates are on the rise. "This is normal," a security guard stationed by a promenade near the Linq hotel tried to reassure me, possibly out of a duty to help keep the calm.
But if visitors somehow seemed oblivious to what the Daily News called "American carnage" on its Tuesday cover, the locals did not. "I'm kind of sad. Nothing happened to my family, but I work here every day," said Oscar, who works selling city tours and has been living in Las Vegas for 21 years. "Scary day today." A young woman named Angel, who works at a burger joint near the Aria resort and was kept on lockdown, customers and all, until 4 a.m. the night before, said law enforcement was still blanketing the area near her workplace, closer to the south end of the Strip and the site of the massacre. "It was crazy," she said.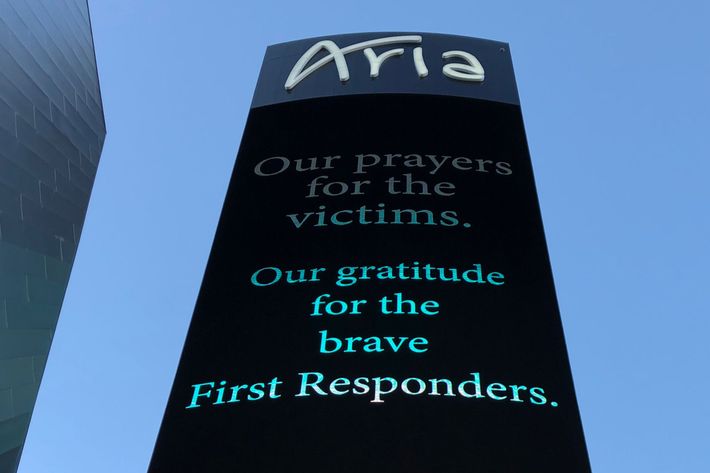 Elsewhere in the city, several hundred gathered for vigils to pay their respects to the victims, and the lights and signs of the Vegas Strip themselves took on a somber, sobering tone — admonishing passersby to donate blood and offering prayers and gratitude to the victims and first responders.
Prior to a double-decker bus ride along the Las Vegas Strip, Oscar told me right off the bat that much of the southern tip remained off limits to traffic, including the famed Welcome to Las Vegas sign, which is only a stone's throw away from the Mandalay Bay, where gunman Stephen Paddock used a 32nd-floor hotel room as a firing platform. Indeed, south of Tropicana Avenue, only police cars were allowed, but that didn't keep an adventurous few from wandering past this temporary city limit.
Ralph Louis, a self-described comedian and the bus's tour guide, said his phone was blowing up Monday morning when he woke up — he hadn't heard of the shooting the night before, and he had awakened to a deluge of messages and texts from people hoping to hear from him. Finally he just decided to mark himself "safe" with Facebook' safety-check feature and left his phone at home to give his day job his all. "I love this city. You'll hear me talking like a man who loves it. And that's not just today, but every day," Ralph said. Down the line, his dream is to do comedy full-time and maybe host a big-time Vegas show. "I work with a microphone on the boulevard every day. In my eyes, I've made it," Ralph said, even though a moment ago he had deadpanned to the crowd on the bus that he hadn't exactly made it just yet.
On a pedestrian bridge near the Mandalay Bay, the one closest to the crime scene, someone left flowers in honor of the victims. A few steps away from that memorial, Doug and Judi Nulle, a retired couple who live in the Summerlin area of town, traveled to the Strip to get as near to the scene as possible out of "curiosity, more than anything," Judi said. "I felt that weirdness. I wasn't sure it was safe. This little voice inside of me kept saying, 'Judi: Don't go, don't go, don't go.' But here I am safe talking to you."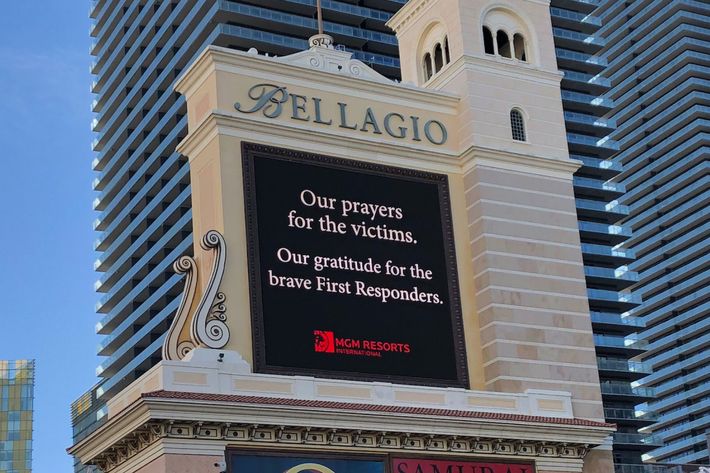 Her husband, a former lawyer whom she describes as a "crime-scene enthusiast," tried to game out a few scenarios for what exactly was in Paddock's mind when he pulled the trigger on the crowd and later himself. But when the conversation turned to the issue of guns, and whether Paddock may have crossed a line and gotten firearms that are otherwise out of reach to most lawful, responsible gun owners, he turned a little pensive.
"I'm very pro–Second Amendment," he said, at which point his wife volunteers that he owned "a ton" of firearms, including a tommy gun. "Well, I have that but it's semiautomatic," he added. "But a fully automatic weapon, no, I — I don't have a class 3 permit. And I have a sneaking suspicion that the suspect didn't have one, either."