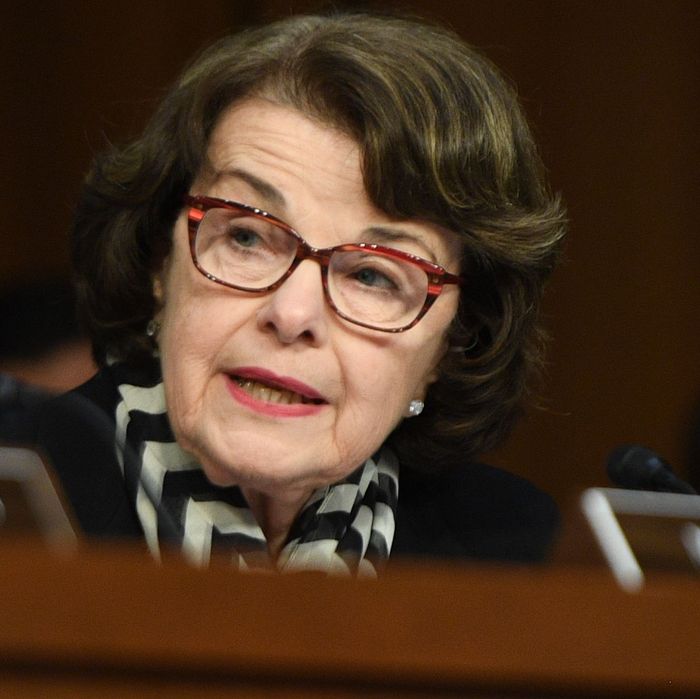 Feinstein.
Photo: Jim Watson/Getty
Dianne Feinstein, a Democrat who has represented California in the Senate since 1992, announced on Monday that she would run for reelection in 2018.
(Though there was some initial confusion about the Twitter account's veracity, CNN's Manu Raju and other reporters confirmed that Feinstein was running.)
At 84, she is the oldest current member of the Senate; she would be 91 if she won next year and finished out another six-year term.
Feinstein, who was the mayor of San Francisco for a decade before her Senate career, has been among the most outspoken voices on issues like gun violence and torture during her long legislative tenure. But in an era of all-out ideological resistance to the Trump presidency, she has drawn fire from progressives for some of her more moderate stances. She is skeptical of single-payer health care, and has said that President Obama's Deferred Action for Childhood Arrivals initiative, which President Trump is winding down, may not have been legal in the first place.
She also sparked outrage in August when she said, of President Trump, "I just hope he has the ability to learn and to change, and if he does, he can be a good president."
Consequently, Feinstein is likely to face a fierce challenge from her left flank in the Democratic primary next year. Kevin de León, the president pro tempore of the California State Senate, is seen as a particularly strong challenger, and there are likely to be others.
But in a sign that Feinstein still has plenty of sway among the state's liberal power brokers, Kamala Harris, California's junior senator and a favorite among progressives, quickly and enthusiastically endorsed her bid.